Out of the 8 cast members in Tencent's reality dating show, "Heart Signal II" (心动的信号2), only 2 couples were successfully paired up. The "TianYi" CP, which comprises of Chen Kun lookalike, Chen Yichen (陈奕辰), and Zhang Tian (张天) were a fan favorite couple from the start. When the show ended, fans rejoiced seeing Zhang Tian and Chen Yichen were still together. In fact, netizens had already spotted Chen Yichen and Zhang Tian traveling together to Chengdu and another occasion where they were together prior to the show's finale. All seemed to be going well until September 23rd, when Zhang Tian posted a long note alleging Chen Yichen's manager was trying to break them up and preventing them from seeing each other.
"Heart Signal II" CP, Chen Yichen and Zhang Tian, Put Relationship on Hold
In Zhang Tian's public lashing against Chen Yichen's manager, Kristy, she mentioned how she was blocked from trying to see Chen Yichen. She understood they were trying to maintain an image where Chen Yichen is single, but said, "If this was your long term plan, then why did you let him go on a reality dating show? It's 2019, is it written in his contract?" Zhang Tian emphasized it wasn't Chen Yichen's fault and couldn't stand that he was being blamed by the public for his manager's wrongdoing.
Chen Kun Lookalike, Chen Yichen, in "Heart Signal II" is a Hit with the Ladies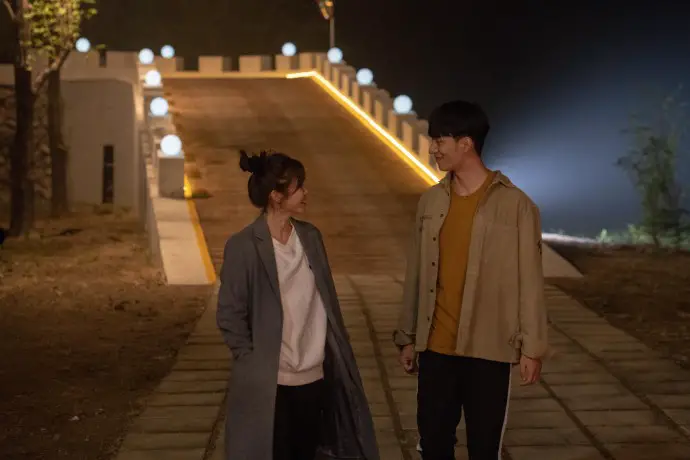 Fourth Male Guest on "Heart Signal 3" Cut from the Show Due to Lewd Lifestyle
Later on that day, Kristy posted on her own account saying, "Don't you know the things you did?" Along with a meme that says, "I am not taking the blame for this". Things were calm until a phone recording between someone sounding like Chen Yichen and Zhang Tian was leaked. In the 3 minutes and 22 second phone recording, you hear a male voice constantly asking a female, "How many did you have?", "How many hook up partners did you have?", "How many boyfriends did you have?" During the female's explanation that some were not hook ups, the male is constantly interrupting her. The male is heard targeting certain questions, such as "Four hook up partners, who is the one with the STDs?", "How many did you sleep with, how many Chinese males did you sleep with? How many were foreigners?"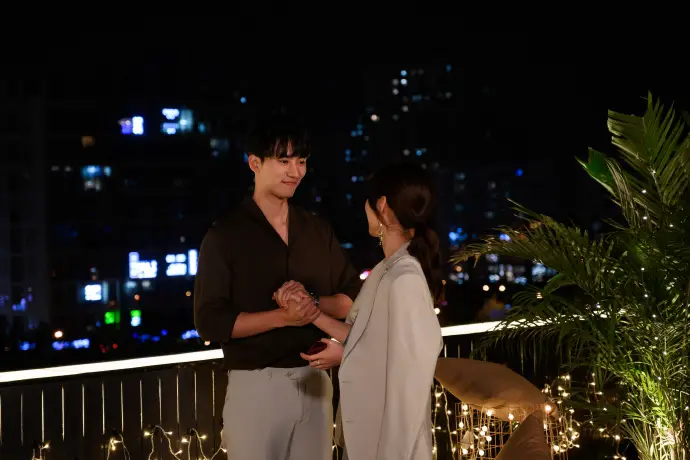 Throughout the conversation, the male seems to be questioning the female's fidelity and insists on asking how many times she slept with the men and the timing of these hook ups. He alleges she hooked up with someone a month before the show and asks her, "Why would you sleep with him if you don't like him?" She claims she hasn't hooked up with anyone this year.
It's unclear who leaked the audio, but Zhang Tian later addressed the recording and said, "The recording was before we went to Chengdu and was recorded without my knowledge. Friends around me know I am honest and do things responsibly. Everything that I invested previously were real. Because of bad luck or suitability, I didn't confirm our relations. I don't accept or approve of any wrongful accusations on my private life. The timing was not right. The true feelings I invested before have been let down, but I have always been very clear minded and I don't regret any of my past decisions. So you guys don't need to worry. Hope everyone still continues to believe in love."
Zhang Tian also uploaded an IG story in response to the recording. Chen Yichen has yet to comment about any of this.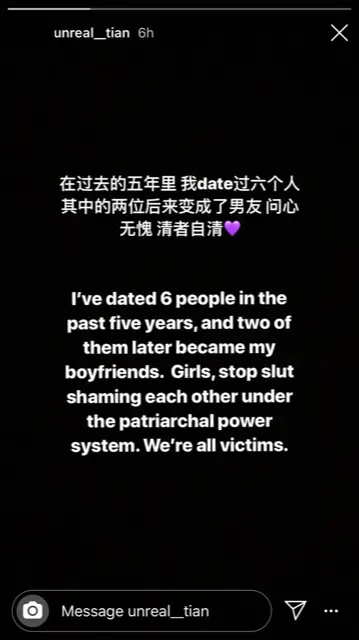 UPDATE 09/24/2019, 03:42 PM
Chen Yichen finally made a response to the things that went down. He made four statements:
He didn't respond to the reports all along because he felt this was a private matter and didn't want it exposed to the public.
Both parties have the phone recording. He wasn't the one who leaked the recording. He said the leak has brought both of them a lot of trouble and he never wished for her to get hurt.
"There is no one who is right or wrong in a relationship." He doesn't want to respond further on this matter and maintains a clear conscience. He hopes both parties will be well.
He apologizes to the media for taking up their resources and the impact the public faced for the trouble this incident has caused in the past few days.
Credit: ETtoday, Weibo (1, 2, 3, 4, 5, 6), Sina Ent, Zhang Tian IG