On November 16, there were rumors circulating that Xiao Zhan's (肖战) manager, Zhang Jing (张晶), was the mastermind behind the AO3 scandal. She was accused of devising a scheme which involved her or her instructing someone to write the fanfic "Xia Zhui" (下坠), which was the catalyst of the AO3 scandal. They also accused her of instructing Xiao Zhan's studio workers to reach out to fans to report AO3 in hopes of getting "sympathy through cruelty". Zhang Jing made two statements denying all the claims and called it senseless and shameless for fabricating these rumors.
Xiao Zhan's Manager Denies Being Mastermind Behind AO3 Scandal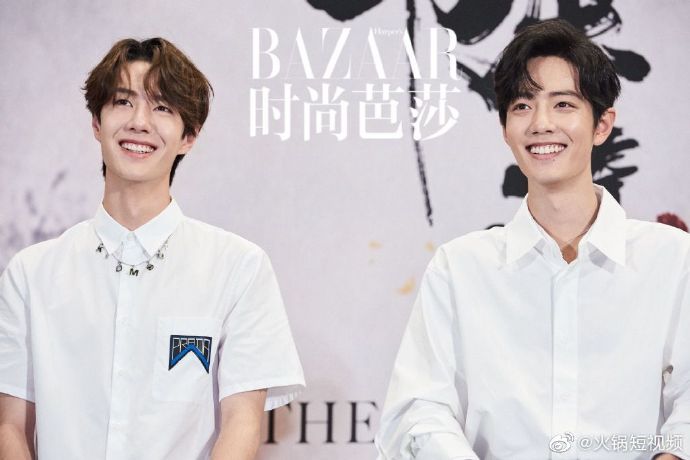 Wang Yibo Reveals Having Wild Ambitions Towards Performing
While all that was happening, a netizen referred to as "Wang Fugui" (王富贵), which translates to "Wang Riches", was trending on Weibo at the same time. This netizen made a lot of accusatory and anti posts targeting Xiao Zhan and his fans. According to some netizens, this person is "one of Xiao Zhan's craziest anti-fan", and allegedly claimed to be an "industry person" and a "rich lady".
Emily Qi's Older Brother Seemingly Addresses New Dating Rumors with Wang Yibo
Rumors started swirling that she was Yuehua's staff member and part of Wang Yibo's (王一博) team when she allegedly shared screenshots of Yuehua financial and transactional records showing the amounts Wang Yibo received for his endorsements that only his team would have access to. Another rumor started circulating that she was a member of Wang Yibo's team rallying for people to report Xiao Zhan. She showed other screenshots showing Yuehua artists' schedules and claimed to have deleted one of her posts because "it was too internal".
How Wang Yibo "Versace-ing on the Floor" Disrupted E-Commerce Influencers Selling Their Products During Livestream

Li Qin's Kiss Scenes with Xiao Zhan and Talu Wang in "The Wolf" Trend for Similar Reasons
However, someone pointed out those alleged records were fabricated using Excel and that the Yuehua list of performers for the Double 11 gala was taken from scalpers by yxh accounts and also included other artists like G.E.M and Eason Chan.
Wang Han Reacts to Jin Xing Saying She Wouldn't Know Wang Yibo Had it Not Been for "Day Day Up"
Xiao Zhan's Crack Down Team Denies Validity of Alleged Recording Between a Fan and His Staff Members Talking about His Current Situation
All these accusations led to people calling "Wang Fugui is Yuehua's professional fan" and "anti-fan account Wang Fugui is a member of Wang Yibo's team". Because of all these rumors, fan wars between Wang Yibo and Xiao Zhan started erupting again with each group pointing fingers at each other.
Hong Kong Actress, Do Do Cheng, Praises Xiao Zhan's Performance in "The Untamed" and Reveals Her Affinity with Him
Yuehua Entertainment (乐华娱乐) came out with a statement and denied all the rumors. Firstly, they stated all the related keywords and discussions surrounding "Wang Fugui is Yuehua's professional fan" and "anti-fan account Wang Fugui is a member of Wang Yibo's team" are false. Yuehua stated they aren't clear on the identity of "Wang Fugui" and have never had any contact with this person nor have they ever had a job position as a "professional fan". Secondly, they stated "Wang Yibo staff member personally releases financial records" and related rumors and screenshots are not Yuehua's files. They asked the public to stop spreading the content as they are groundless rumors and maliciously fabricated.
Lead Director of "The Wolf", Frankie Chen, Reveals Why Talu Wang, Li Qin, and Xiao Zhan were Suitable for Their Roles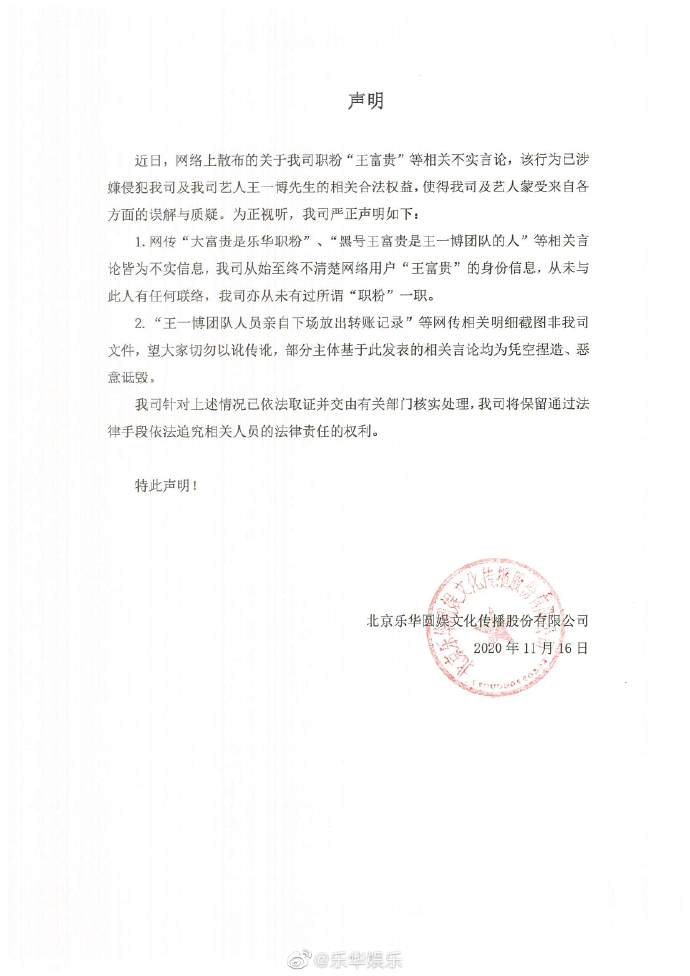 "The Untamed" Director, Chan Ka Lam, Speaks Up for Xiao Zhan After He was Awarded "Most Disappointing Actor"
The "Wang Fugui" account holder also issued a statement of her own saying that she is not a Yuehua employee. Her last name isn't Wang and is "purely a normal person boycotting Xiao Zhan". She claims Xiao Zhan's side or his fans photoshopped two of her pictures that had nothing to do with the entertainment industry to spread rumors and defame her. She said those reposts have already reached tens of thousands and claims to have received countless of Xiao Zhan fans leaving cyber bullying and malicious private messages that have caused serious mental harm to her. She has already found a lawyer and plans to take legal action.
Xiao Zhan Writes Open Letter to Himself for 29th Birthday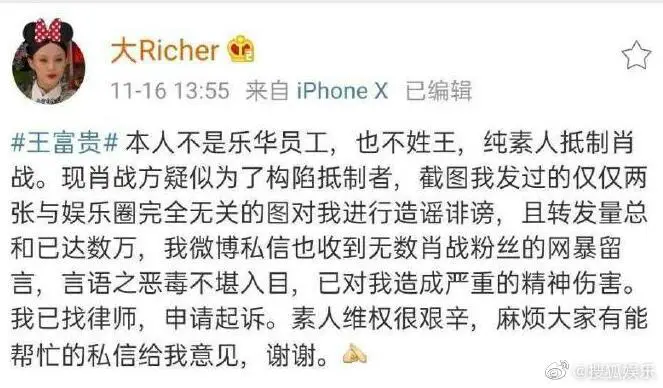 "The Wolf" Finally Airs Three Years Later with Much Excitement from Fans Around the World
In a follow up post, she claims she used to be Xiao Zhan's fan. She found it funny that she was trending on hot search seemingly because of Xiao Zhan's camp. She said, "Declaring once again, my last name is not Wang. I am not anyone either. I'm just a normal person and someone who was once Xiao Zhan's fan and later a victim of Xiao Zhan's [AO3] incident. I am also just exercising my rights as an ordinary consumer." She proceeds to show a screenshot of her March 11 post that said she quit being Xiao Zhan's fan, but wouldn't proceed in attacking him either. In order to prove that she was once a fan of Xiao Zhan's, she shows alleged screenshots of some of the receipts for the products that were endorsed by Xiao Zhan before.