It was the second official ranking and second round of eliminations in episode 7 of "CHUANG 2021" (创造营2021). Each elimination gets harder as more trainees leave after developing close bonds with each other. From the first elimination, it went from 90 to 55 and with the second elimination, 55 to 33.
Zhou Keyu
Santa
Rikimaru
Liu Yu
Oscar
Mika
Patrick
Lin Mo
Bo Yuan
Zhang Jiayuan
Gan Wangxing
Hiroto
Caelan
Nine
AK
Wu Yuheng
Ren Yinpeng
Zhang Xingte
Fu Sichao
Zhang Xinyao
Lelush
Yu Gengyin
Xie Xingyang
Amu
He Yifan
Zeng Hanjiang
Wei Ziyue
Wu Hai
Xue Bayi
Zhang Teng
Rong Yao
Hu Yetao
Jing Long
Aside from the tearful eliminations, another shock was Liu Yu being dethroned from 1st place by Zhou Keyu after taking the spot for three weeks consecutively. Both Liu Yu and Zhou Keyu were quite shocked by the outcome. Some of Liu Yu's fans have doubts over this week's ranking based on the amount of fundraising and support activities they did for him.
Jing Long was barely safe ranking at 33rd, the last safe spot. After the second public performance, Jing Long knitted something for Gan Wangxing and said he would miss him the most. Jing Long said he would go to the finals with a truck load of the yogurt drink to vote for him if he was eliminated before the third round.
Another highlight was Zeng Hanjiang's ranking, which already brought his best friend, Mika, to tears before it was even announced. Mika was particularly downtrodden during the rankings, even when he was announced in 6th place. It turns out he was worried about Zeng Hanjiang's previous ranking, which was 32nd and on the cusp of elimination. When it was announced Zeng Hanjiang had passed through the second round at 26th place, Mika broke down crying and was comforted by other trainees.
Yu Yang's speech to Santa was especially heartbreaking as everyone in room 405 became so close and referred to each other as family.
Rest of the ranking:
34. Gui Shangqi
35. Ichika
36. Nuo Yan
37. Luo Yan
38. Eisho
39. Ye Haoran
40. Han Peiquan
41. Lu Dinghao
42. Shao Mingming
43. Li Luo'er
44. Yu Yang
45. Wang Xiaochen
46. Qu Boyu
47. Jiang Dunhao
48. Dai Shaodong
49. Huang Kun
50. Lai Lai
51. He Zhenyu
52. Xu Shaolan
53. He Yijun
54. Zhang Zhang
55. Fan Zhen'er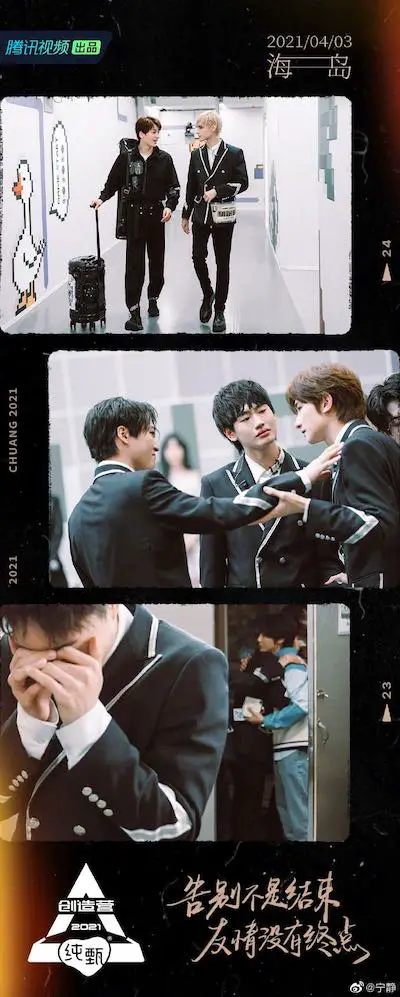 Credit: Weibo (1)