SNH48 Team HII member, Guo Shuang (郭爽), was trending the past few days for inadvertently revealing her own relationship because of a QR code. On October 19, fans discovered a QR code Guo Shuang had shown in a vlog was actually a "love store" of intimate pictures between Guo Shuang and her boyfriend.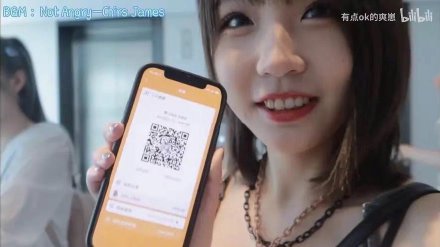 Items available for purchase include pictures of Guo Shuang and her boyfriend doing various intimate acts such as kissing or hugging for "5.20″ or "13.14", which represents 520 and 1314 and means "I love you" and "forever" respectively in Chinese.
The store was eventually taken down, but Guo Shuang's fan club announced they would dissolve because of the incident. They indefinitely suspended any support activities for Guo Shuang, dissolve their fan group, and stop updating their account. They also said Guo Shuang was wrong and should be punished for violating her company's rules. They want Guo Shuang to take responsibility for her actions and for not living up to the standards of being an idol and hopes that she will address the all the issues.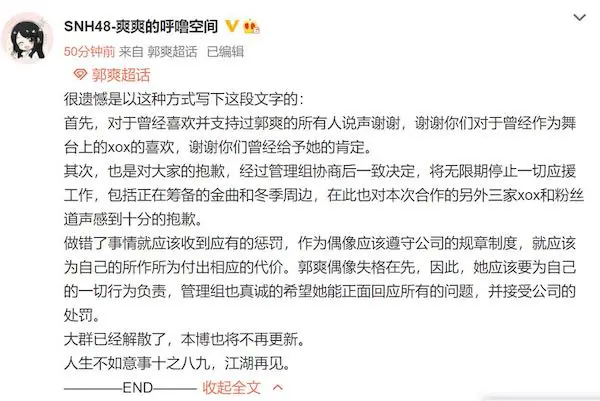 Guo Shuang later issued an apology and explained there was a period of time where she was lost and confused. She didn't have any comprehension or awareness. So she used love to adjust her condition. Guo Shuang elaborated, "Good thing I ended this relationship way earlier before I got too lost. There are times I wanted to reveal it everyone, but seeing people tell me not to date by all means, not to 'collapse my house' by all means, I got scared. I don't dare to think about what would happen, so I decided to hide and avoid this once again."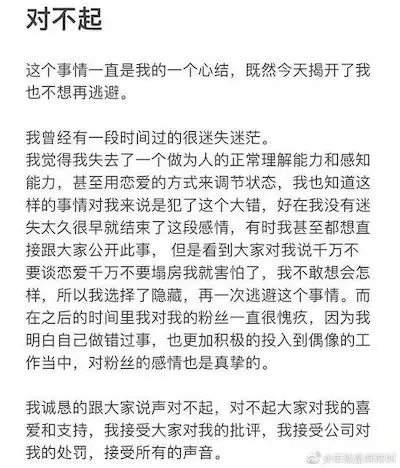 Guo Shuang also felt guilty towards her fans and explained, "I understand I made a mistake. I will actively absorb myself into the work of being an idol. My feelings toward my fans are also sincere." She apologized to her fans and said she will accept all criticisms and the company's punishments.
On October 20, Star48 Culture, issued a "Punishment Notice" in regards to Guo Shuang's incident and said that she violated "SNH48 Corporation's Member Management Rules". The company decided on four punishments for Guo Shuang:
Yellow card
Effective immediately, her role as an official member has been demoted to being a reserve member.
All group performances and commercial activities have been suspended.
Deduct Q4 allowance and Pocket48 withdrawal.