Paisley Hu was the latest guest on Sharon Chan's (陳敏之) Youtube show, "Chi Chat". One of the topics they covered was the "Wu Sisters" (胡說八道會) friends group, which consists of good friends, Paisley Hu (胡蓓蔚), Myolie Wu (胡杏兒), Nancy Wu (胡定欣), Selena Lee (李施嬅), Elaine Yiu (姚子羚), and Mandy Wong (黃智雯).
Sharon Chan asked Paisley Hu if there was ever any unhappy experiences among the group. Paisley Hu revealed they haven't had a situation where someone was mad at another person because each person respects everyone's boundaries.
Paisley Hu revealed a story about Myolie Wu is always rushing and has a schedule for everything. There was a time when the group went to the Maldives and when they were allocating the rooms, they were pranking Elaine Yu and arranged for her and Myolie Wu to be in one room. Elaine Yiu responded, "No! Really, not good! I beg you, no!" In the end, Paisley Hu ended up rooming with Myolie Wu.
There was another time when they were riding bikes down to a sandy area and Myolie Wu was biking really fast. Paisley Hu was trying to catch up and tripped over. She scratched her knee, but Myolie Wu didn't know since she was way ahead. Paisley Hu then shouted, "So rushed!" and stopped biking. That's when Myolie Wu got mad at Paisley Hu and she was very grumpy. They ended up not paying attention to each other. However, Paisley Hu said it only lasted for 5 minutes. They stared at and asked each other if they were okay and when Myolie Wu went to the front, Paisley Hu caught up to her and linked arms with her, saying, "Cheer me up." Myolie Wu responded back to her, "B*tch!"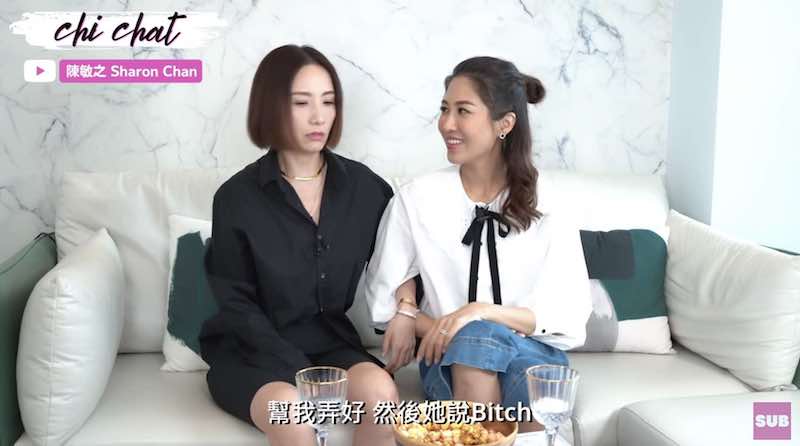 Credit: Paisley Hu IG