Yesterday was "TVB's 51st Annual Anniversary Gala" and there were a lot of young starlets and heartthrobs ready to show off their skin and bodies.  Crystal Fung (馮盈盈), who has the moniker of "MK Miss Hong Kong (MK refers to a distinct type of person who hangs out in Mongkok), grabbed the attention from the other actresses when she decided to wear a dress with a plunging neckline and showed off her body with see through lace on each side.  She also revealed she didn't wear any underwear or protective covering.  Louisa Mak supported her claims and said Crystal Fung had originally wanted to wear underwear, but decided not to as it was showing through the dress.  Louisa Mak didn't disappoint either as she wore a dress with a slit down to her belly button.  
Emotional Acceptance Speeches from Mandy Lam and Oscar Leung, Crystal Fung and Matthew Ho Receive "Improvement" Awards
Former Miss Hong Kong Crystal Fung Says "Girls Marrying into Wealth are Public Restrooms"
As for the gents, Matthew Ho (何廣沛), Owen Cheung (張振朗), and Karl Ting (丁子朗) competed against each other on the biggest biceps.  Each of them came prepared with a pullout sleeve to have their biceps measured.  The winner turned out to be none other than Matthew Ho with 14 inches, Owen Cheung with 13 inches, and Karl Ting with 13.5 inches.  However, Matthew Ho's arms looked flabby next to Karl Ting's and Owen Cheung's.  
Matthew Ho Says Tissues will be Needed for "Life on the Line", Was Mistaken for Other Actors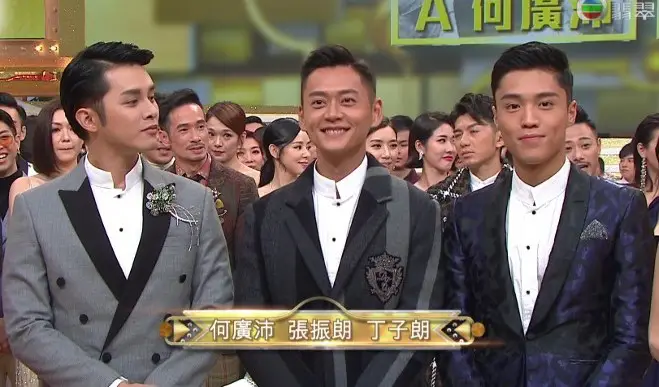 Matthew Ho Says He Has No Chance At Best Actor Award Because of "Him"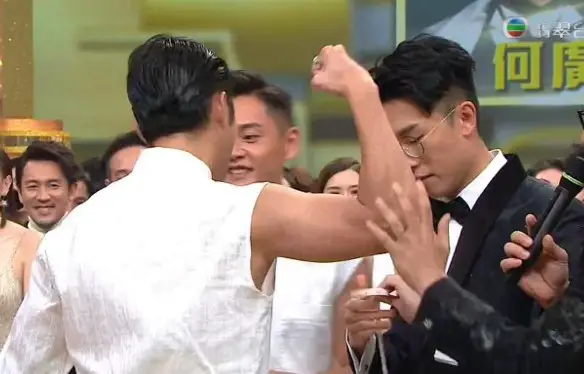 Credit: hk.on.cc (1, 2), Louisa Mak IG