Fred Cheng (鄭俊弘) and Stephanie Ho (何雁詩) tied the knot in Hong Kong on November 7, after being engaged since last September. The couple's marriage plans were deterred when the pandemic hit. Earlier in the day, they did the Chinese tea ceremony wearing traditional Chinese wedding gowns at Stephanie Ho's home. They got married at an outside venue at a hotel in Shatin attended by 50 family and friends, including TVB executive, Virginia Lok, and Voice Entertainment CEO, Herman Ho.
Fred Cheng and Stephanie Ho are Engaged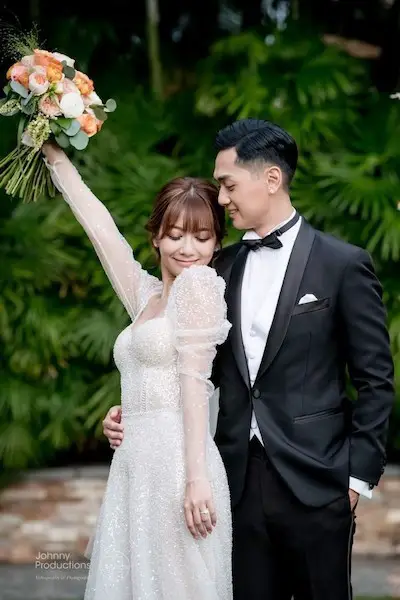 The couple said their vows in English with Stephanie Ho singing lyrics from Lea Salonga's song, "Two Words", to Fred Cheng. They also signed their marriage license that day. Later that evening, the couple hosted 70 guests for the dinner banquet.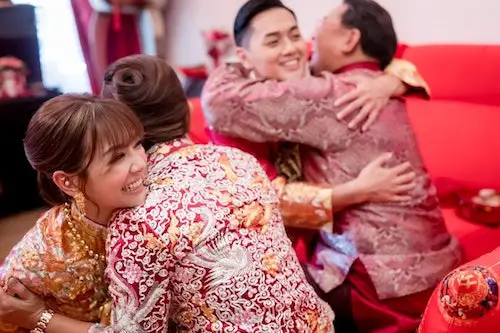 However, Fred Cheng revealed this wedding was just a tiny celebration due to the pandemic restrictions. They will be holding a grand wedding banquet next year, which will cost over 6 figures, according to Stephanie Ho. Both the bride and groom were decked out in jewelry. They broke tradition by driving their own car, a Porsche, to the wedding venue. There were also wedding games when Fred Cheng went to pick up Stephanie Ho.
As for baby making plans, Stephanie Ho and Fred Cheng both said they wouldn't be having children immediately after getting married.