Zhang Yanqi (张颜齐) is the latest R1SE member to be involved in dating rumors or "scandal" in the eyes of idol group fans. On November 25, rumors started circulating Zhang Yanqi was dating and living with a senior Tencent executive, Mu Dan (母丹), who also served as the producer of R1SE's first concert.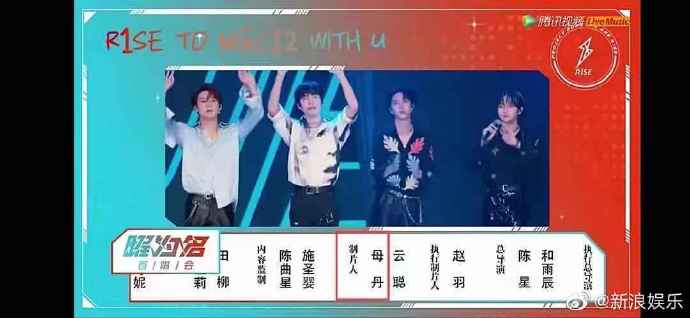 On the same day, Mu Dan seemingly addressed the dating rumors, saying, "1. Single, 2. Not a senior executive, 3. Already submitted resignation."
Netizens might have gotten the rumored girlfriend mixed up with someone else as "Mu Dan", which means Peony, is a very common name. An actress with the same name, Mu Dan, posted a statement addressing the trend "Mu Dan" on Weibo, saying, "I don't know Zhang Yanqi. I only found out Zhang Yanqi was a singer today after a lot of people inquired and tagged me on Weibo. Thank you everyone for your concern and also wish Zhang Yanqi a smooth career."
Youku released a video the next day claiming that Zhang Yanqi and Mu Dan were entering and coming out of the same building complex, but on different days. The video doesn't show them together, which has raised some suspicion from netizens and fans. Neither Zhang Yanqi nor his management company, Wajijiwa Entertainment, have addressed the rumors.