There were recent rumors some GOT7 members were not renewing their contracts with JYP Entertainment after it expires on January 19. It seemed the rumors had some truth to them when JYP Entertainment (JYPE) CEO, Park Jin-young, who also refers to himself as JYP, unfollowed BamBam, Mark Tuan, and Jinyoung on Instagram. Youngjae and BamBam had also deleted previous posts/tweets about JYP on their social media accounts.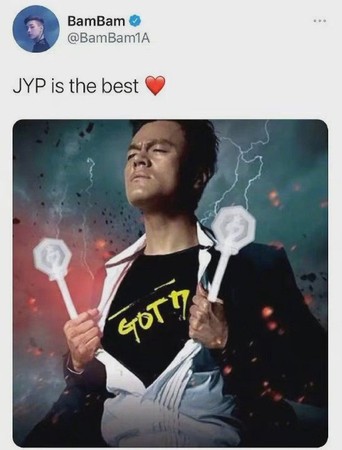 On January 10, Korean news agency, Dispatch, reported all 7 members of GOT7 will not be renewing their contracts with JYPE. According to Dispatch, they claim one or two members were interested in renewing with JYPE, but under the condition the entire group re-signed with the company. According to someone from the music industry, they claim the GOT7 members are really close and have a good relationship. Each member had different views from the company. After few rounds of discussions, the members decided to part ways.
This is Dispatch's report on the rumored plans for the members:
Jinyoung: First member to mention changing companies. Plans to sign an exclusive contract with BH Entertainment to develop his acting career.
Yugyeom: Rumored to be signing with Jay Park's label, AOMG. Jay Park was a former member of fellow JYP group, 2PM.
Youngjae: Received an offer from Sublime Artist Agency, which is home to artists like Rain, Hani, and more. He is currently in talks with the agency.
JB: Received offers from hip hop labels and international record companies and expects to sign with a company that can support his solo activities
Jackson Wang: Focusing on developing global career through his own label, TEAM WANG. Korean activities would be conducted through an agent.
BamBam: Plans to be active in his native Thailand and South Korea. Received offers from South Korean companies to manage his activities there. In discussions to sign with Makeus Entertainment.
Mark Tuan: Plans to return to the US and spend time with his family in Los Angeles for some time. Will open his Youtube channel and plans to have activities in the US.
After the news went out, Mark Tuan posted this on twitter. All seven members posted the same picture on their Instagram accounts with the hashtag "#GOT7FOREVER".
Sina Entertainment also reached out to Jackson Wang's team on the reports of GOT7 not re-signing with JYPE. They said, "Wang Jia'er's contract will return to TEAM WANG's company. He will continue to develop his global career in the future."
Mark Tuan also made another statement on Weibo saying, "Thankful to everyone who has been by my side supporting me all these years. A brand new journey is about to embark now. Looking forward to seeing you guys more in the future. I love you guys~".
JYPE also released a statement about the group not renewing their contacts. They said, "It's hard to confirm the proposals each member received. As for questions on GOT7's contract renewal, we will notify everyone immediately once the company sorts out its position."