YUE HUA Entertainment artists, Aria Jin (金子涵) and Li Wenhan (李汶翰), are participants on the acting reality show, "I Am An Actor 3" (我就是演员 3). In episode 5 that aired on January 16, Aria Jin and Li Wenhan re-enacted a scene from Taiwanese series, "Someday or One Day" (想見你). Aria Jin played "Huang Yu-Xuan", Li Wenhan portrayed "Li Ziwei", and Li Chuan (李川) guest stars as "Mo Junjie". The scene being re-enacted is when "Huang Yu-Xuan" discovers she has traveled back in time.
However, after their performance, they received mixed reviews from the judges and teaching panel. The most harsh sounding review came from actress, Hao Lei (郝蕾), who serves as a performance director on the show. For Aria Jin's performance, she commented, "Aria Jin, I heard you are a singer who can really sing and dance well. I really think you should go back to singing and dancing. You don't have the makings to be a good actor. People need to utilize their strengths well. It's not necessary to struggle with your shortcomings."
As for Li Wenhan, Hao Lei said this, "Li Wenhan is much stronger compared to last time. But my advice to you is don't film for the time being because you are very busy. I can see a lot of faults and issues in your performance right now, but I know you don't have time to go learn." Li Wenhan responds to her, "I actually did [go learn]." Hao Lei continues saying, "Okay, I think it's hard for people to be distracted with so many things. When you are free, first go study and then go film."
Aria Jin and Li Wenhan started getting emotional and broke down in tears when actress and acting coach, Liu Tianchi (刘天池), comforted and hugged them. Li Wenhan had previously received a lot of criticism for his portrayal as "Wei Xiaobao" in the classic series, "The Duke of Mount Deer".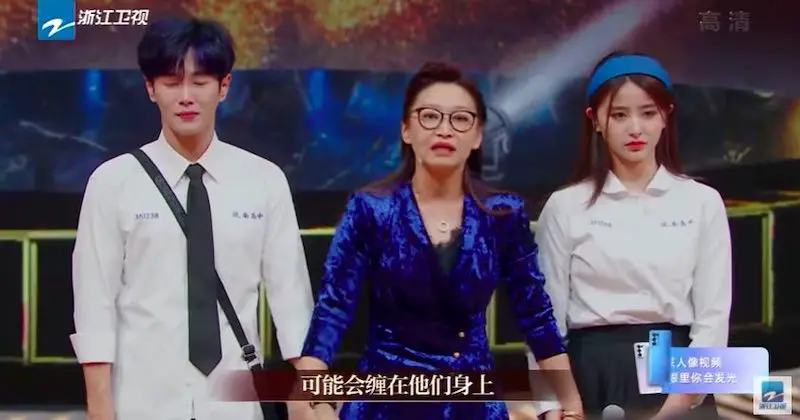 Li Wenhan debuted as an idol in 2014 in boy band, UNIQ, and later started acting while still being an idol singer. Aria Jin debuted in 2020 after ranking in the top 20 as a trainee in iQiyi's survival show, "Youth With You 2".