Huang Xiaoming's (黄晓明) appearance has been a topic of hot discussion in recent times. The 44 year old actor had once gained 7 kgs for his role in "American Dreams in China" (中国合伙人). Most recently, he had to assume the role of someone balding and lose 10 kgs for his upcoming movie, "A Cover-up" (戴假发的人). However, it seems he has recovered his image and then some. A recent video has been circulating of Huang Xiaoming working hard at the gym.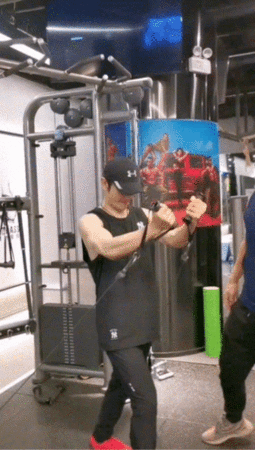 The hard work has paid off as pictures were circulating of his toned and muscular body. Huang Xiaoming had previously revealed that he had a fat body type. In order to lose weight, he once tried not eating dinner and only drank water. However, he ended up gaining 0.5 kgs the next morning.
Filming for "A Cover-up" this time, Huang Xiaoming would only drink water everyday to lose weight. As he didn't eat and often had to film late, it made his health worse.