According to media reports, Wang Yibo (王一博) has recently established his own culture technology company. Based on findings from QCC.com, a database for looking up information on corporate and commercial enterprises, Wang Yibo's company, "Hainan Boyuan Culture Technology Company, Ltd." (lit. 海南博远文化科技有限公司), was formed on January 28. The company is categorized as entertainment related. Wang Yibo reportedly holds 60% of shares in the company and has 1.2 million RMB in subscribed capital, making him the company's largest shareholder, controller, and beneficiary.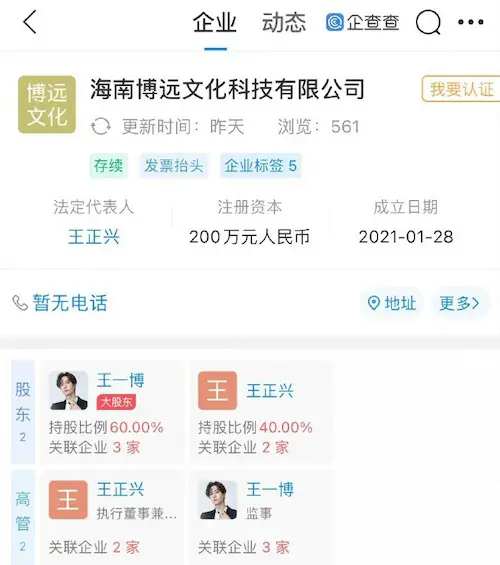 Some fans left comments saying this is a standard practice for celebrities to establish these type of companies for convenience in paying taxes. According to QCC.com, Wang Yibo also has ties to three other similar companies.
Back in November, it was reported YUEHUA Entertainment had registered the "Yibo Wang Zha" trademark, adopted from Wang Yibo's team name from "Street Dance of China 3".