Mango TV's popular variety show, "Who's the Murderer" (明星大侦探 6) is currently in its sixth season. The current season of the show has been marked with controversies. During their Christmas edition episode, the entire Christmas backdrop and decorations were blurred out when the episode was released due to He Jiong's (何炅) fan gifting scandal. The show's latest episode was under fire again when they photoshopped the picture Selena Gomez posted about her kidney transplant that was donated from her friend, Francia Raisa, with the faces of He Jiong and Sa Beining (撒贝宁).
Sharp eyed netizens and Selena Gomez's Chinese fans immediately noticed the picture was used as a set prop. It was photoshopped using the picture Selena Gomez had posted when she revealed she received a kidney transplant from her friend, Francia Raisa. He Jiong and Sa Beining's heads were photoshopped onto the picture and the coloring of the hospital robes were changed. The caption accompanied with the picture was, "Sharing a kidney for life."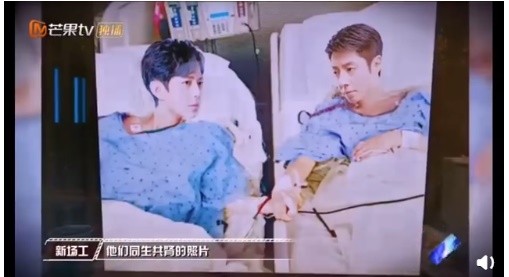 The show issued an apology on February 25 saying it was "due to negligence that caused hurt and pain to the related parties and the people who love them." Once they found out the issue, the show claims they "immediately dealt with it." They also thanked the fans for leading and correcting them to the mistake and vowed to have stricter review standards to avoid similar occurrences from happening again.