It was Seven Tan Songyun's (谭松韵) turn to deny bizarre rumors. Rumors were circulating that a female actress with the initials "tsy" was married and then got divorced. Netizens started guessing "tsy" is Seven Tan, whose Chinese name is Tan Songyun (TSY).
On March 15, Seven Tan personally denied the rumors on Weibo. She posted pics of the rumor posts and put a big fat "fake" character in Chinese. Seven Tan also wrote, "A prophet? Indeed, I did get married and got divorced…but reconciled! However, it is 'Luo Shiyi Niang', not Tan Songyun. Let's all follow 'The Sword and the Brocade' at night."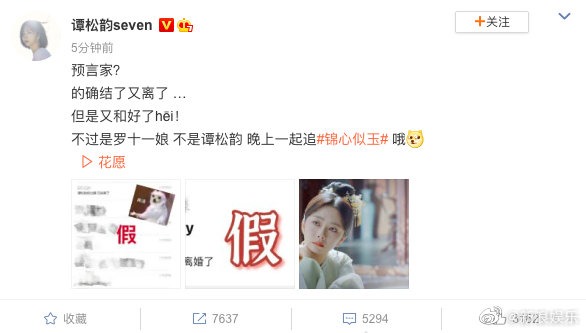 "Luo Shiyi Niang" is in reference to Seven Tan's character in her currently airing series, "The Sword and the Brocade" (锦心似玉).