Yang Mi (杨幂) came under fire after posting a picture of her imitating a pose she saw from a manhua (comics) on March 21. She included the caption, "Raise your hand to join the anime waist challenge. It's a little hard." While some fans and netizens praised Yang Mi for her body, some netizens felt this was giving women anxiety to achieve unrealistic body image expectations and defining beauty standards for women by using their bodies in challenges again.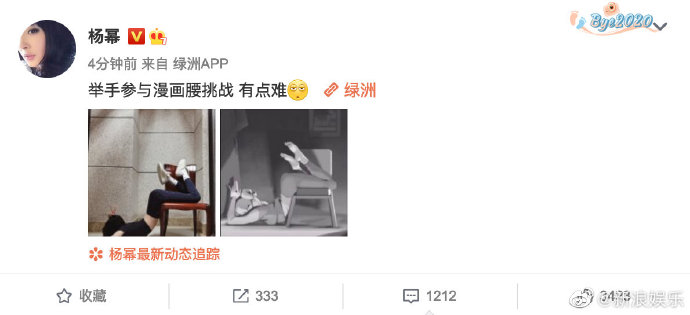 Due to the backlash, Yang Mi deleted the post and apologized. She said, "I recently saw a difficult stretching challenge on the internet. It was a novelty for a period so I challenged it and posted a picture. I only found out today that if there is no professional instructor guiding you to do this action, it may be very harmful to your body. I am very, very sorry. Because I didn't take it into consideration properly, it created misunderstandings for everybody. I hope everyone tries healthy exercises and stretching movements in a safe environment. I hope everyone can be healthy. I will be definitely be more cautious in the future. Once again, sorry."
Prior to the "anime waist challenge", there was once an "A4 paper challenge" in China a few years ago where women would measure their waist against a piece of A4 paper. The idea is that the A4 paper covers your entire waist in order to "pass" the challenge to be considered "skinny" or "beautiful".