After some spoilers of Xiao Zhan filming for his new series, the official announcement came on March 29 that Xiao Zhan (肖战) and Ren Min (任敏) are starring in the series, "Yu Gu Yao" (lit. Jade Bone Ballad 玉骨遥). Filming also started on March 29. The drama is an adaptation of the fantasy novel, "Zhu Yan" (朱颜), a prequel to the "Mirror" (镜) series. The drama adaptation was already in production last April and set to start filming in June. Yang Yang and Zheng Shuang were once rumored to be starring in the series.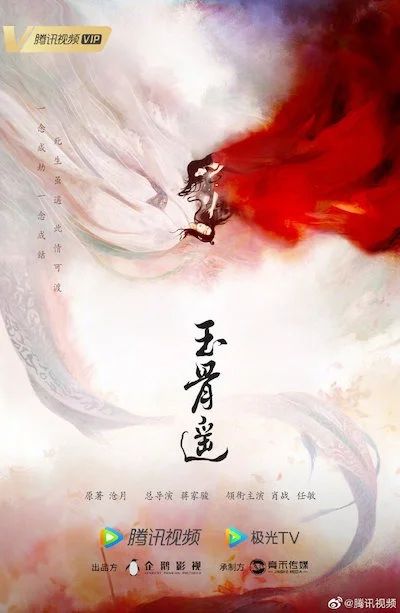 The series revolves around the passionate and righteous princess of the Red Clan, "Zhu Yan" (Ren Min), and the lonely and cold prince of the Kongsang Dynasty, "Shi Ying" (Xiao Zhan), who is also a priest. Because of fate and a combination of factors, the two of them become master and disciple for three years. The return to evil rises and Kongsang succumbs. Due to misunderstandings, "Shi Ying" thinks "Zhi Yuan", the merman that grew up with "Zhu Yan", is the sea emperor. "Shi Ying" personally seals "Zhi Yuan". In order to avenge "Zhi Yuan", "Zhu Yan" took the jade bone and stabbed "Shi Ying", fulfilling a prophecy. "Zhu Yan" uses fresh blood to bring back "Shi Ying". When "Shi Ying" comes back to life, he gives the key to break "Zhi Yuan's" seal to "Zhu Yan". "Shi Ying" finally understands one person's fate will be influenced by many factors. They resolve their misunderstandings and fight together to discover the true enemy from the Ice Clan that has been planning to bring down the Kongsang Dynasty.
"Zhi Yuan" is said to have the appearance of a 25 year old, but is actually 300 years old. In front of "Zhu Yan", "Zhi Yuan" is the gentle and stable "A-Yuan" gege. However, in front of his opponents, he becomes the first warrior of the mermaid clan. "Zhi Yuan" loves and pampers "Zhu Yan" like a family member and is "Zhu Yan's" person that she can rely on the most to talk about what's on her mind.
While the rest of the cast hasn't been announced yet, Douban has listed Wang Churen, Alen Fang, and Han Dong as part of the supporting cast.