There were recent rumors circulating from a media outlet that a male star of a BL drama adaptation was "hyping up BL CP during the day, hanging with internet celebrity at a hotel at night." This media outlet even released an animated video of the story they're depicting. Because of the animation, rumors started circulating the male star in question could be Fan Chengcheng (范丞丞).
Fan Chengcheng responded to the rumors using his dog, Fan Chongchong's (范虫虫) Weibo account. He uploaded a video of Fan Chongchong chewing on a bone and wrote, "Eat bones! Don't eat melons (poisonous melons are terrible). Lawyers are already rubbing their hands and waiting on standby!"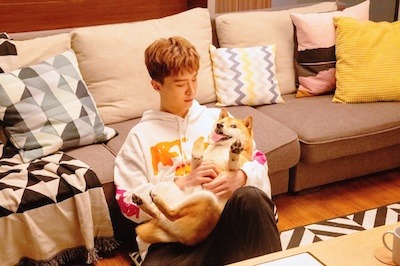 Fan Chengcheng started filming the BL drama remake of "Sa Ye" with Wang Anyu called "Chasing the Light" last year.