Singer, Karene Mak (麥貝夷), uploaded an IG story on March 29 calling out an ex-boyfriend that cheated on her and had a "scary amount of sexual partners". She also said he told everyone that she was the one who pursued him and that he didn't do anything to start this relationship or make her stay. She also said Happy Birthday to this person. Many netizens suspected this person might be TVB actor, William Chak (翟威廉), as it was his birthday that day.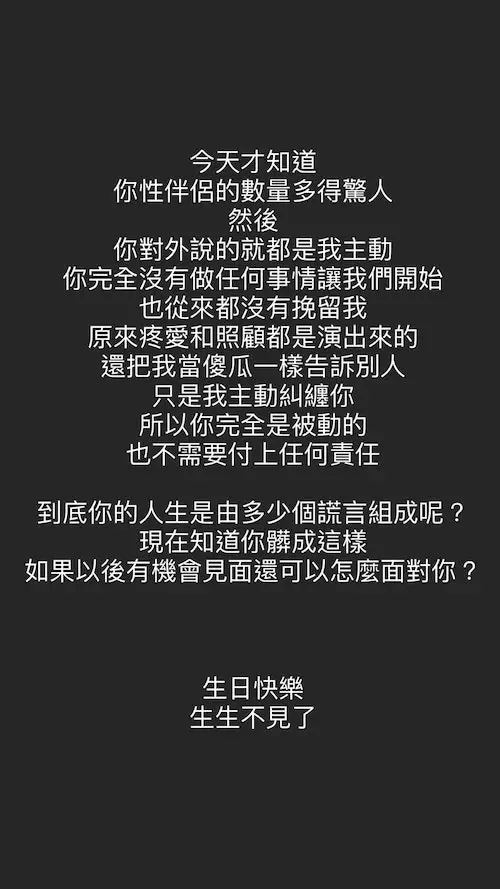 William Chak was at an event on April 1st and was asked about the incident. He responded, "I am not Karene Mak's boyfriend, never was. She is a good friend of mine. We've never been together. I'm not her boyfriend, so the story isn't talking about me. However, I watched the story again. The story didn't say it was her boyfriend. So I am thinking if she could be talking about me because it was my birthday that day. She had already blocked me on WhatsApp early on. We don't have much interaction."
William Chak also clarified, "I have been single for 7 years. I did have flings, but they weren't any scary amount. It was a normal amount. I am an adult, there were no one night stands. I've had flings with Japanese and Korean people before. I would also not lie about relationship matters, but if there were any misunderstandings or things that led to her being unhappy, I am sorry. I am sincerely sorry. If she wasn't talking about me, then treat it like I am talking nonsense.
Oriental Daily News reached out to Karene Mak for a comment and said the IG story already explained everything. However, she said she was stunned by William Chak's apology, but will no longer respond to the matter as she didn't want it to ferment anymore.