"Youth With You 3" (青春有你3) trainee, Tony Yu Jingtian (余景天), has consistently ranked in first place since the show started. However, that comes with a price due to the grueling filming and practice schedules. Tony has had a few minor injury incidents that fortunately didn't prevent him from competing on the show. However, on April 19, Tony was trending high on Weibo when it was learned that he was sent to the hospital.
Tony's official fan club made a statement on April 19 that they received notice Tony had fainted from overworking and a lack of rest. He was immediately sent to the hospital and the company reported back that Tony had already gained back consciousness. The company told fans not to worry.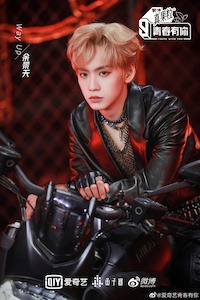 Shortly after, an alleged schedule was circulating showing long training periods for trainees. For example, Tony's schedule showed his schedule starting at 7:30 am with no time listing when he gets off work. Tony had previously fell asleep on the show and expressed that he is always lacking sleep. It turns out aside from practicing until early in the morning, Tony also has to take online classes as an 18 year old high school student.