On May 8, former "Produce 101 China" trainee and actress, Zhao Yaoke (赵尧珂), called out her boyfriend of half year, "Youth With You" trainee and actor, Aaron Deng Chaoyuan (邓超元), for flirting with other girls and being emotionally abusive to her. Zhao Yaoke showed screenshots of the texts Aaron Deng allegedly sent to her and soon after, the hashtag, "Deng Chaoyuan pua (pick up artist)" started trending on Weibo.
Zhao Yaoke started off saying she had once wanted to protect Aaron Deng, his dream, and his idol identity. However, she found out some things recently that finally made her clear. Zhao Yaoke said, "You wouldn't let me learn how to swim, so I gave up on swim lessons. Wouldn't let me take acting classes, so I didn't dare go. You think I am wrong as long as I have any contact with boys, so I started to reflect whether or not I should have any contact with the opposite sex."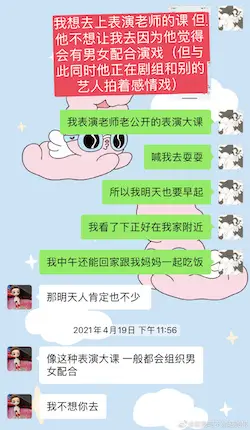 She continued saying, "You said you didn't really date that much, but in actuality, you've had something with a girl in each of your previous series including this series of ours. You even sent a lot of flirtatious messages to an actress with a very curvaceous figure from our series. You said you rarely go out to have fun, you're very "misogynistic", but these past two days, I found out you recently went to a friend's birthday gathering at a KTV and stayed there until 5-6 in the morning and even chatted for a long time with a female friend of mine and exchanged WeChat contacts…I once cared for you so much and now I am so disgusted. If you had even a little bit of the acting skills from your real life in the drama, then you would definitely be much more powerful now. This half year, it's so laughable."
In one of the texts shown by Zhao Yaoke, shows Aaron Deng saying things like, "I have a bit of social anxiety disorder and also a bit of misogynism. The misogyny is pointing to physiological reactions. Once [I] get close to [women], I would feel uncomfortable. Don't even think about think about going deeper, just even a bit wouldn't work. Cherish me well. Where is there such a prince that matches you so well, besides family background because I am the type that is in dire straits."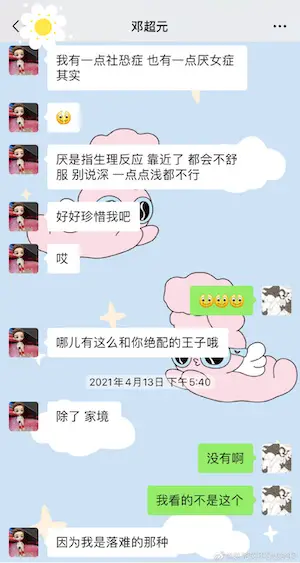 In another screenshot, Zhao Yaoke showed Aaron Deng some pictures from a photoshoot. He tells her, "Perhaps in your mind you like to go for the flirtatious style. In fact, true top quality is not dependent on exposing [skin], but it comes from inside out." One text showed Aaron Deng telling Zhao Yaoke, "You haven't even learned how to be modest. If you were really that wonderful…I haven't seen you play many female leads either." During a fight, Aaron Deng told Zhao Yaoke, "You have already impacted my mood at work. Starting from this moment, I won't be contacting you for three days."
From a text message in March, Aaron Deng is seen telling Zhao Yaoke, "I am really suffering. I didn't sleep yesterday. I know I really did wrong. Why don't you first accept my WeChat, okay? I know we both need to calm down. You can not care about me for now." Zhao Yaoke responded back to him saying she couldn't accept being lied to by Aaron Deng and said she felt less and less of herself after dating him. She felt she lost her independence and friend circle. Zhao Yaoke also said Aaron Deng constantly negated her, making her to constantly question herself. Aaron Deng hasn't responded to Zhao Yaoke's claims.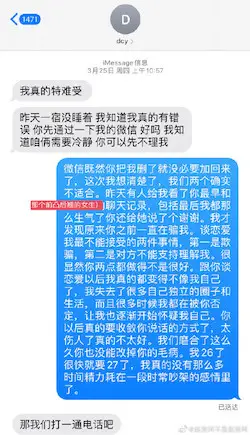 Aaron Deng and Zhao Yaoke worked together in 2020 on the series, "Meeting You Loving You" (人海之中遇见你). In November 2020, Zhao Yaoke had uploaded a vlog revealing she, Aaron Deng and two cast members from their series had went to play at an Escape Room together. The following month, Zhao Yaoke and Aaron Deng were rumored to be dating after they were spotted on an outing together. At one point, Zhao Yaoke is seen giving Aaron Deng a big bear bug. Neither party ever addressed the dating rumors.