Since Zhang Heng (张恒) was awarded with "Parenting Solo Decision-Making Authority" back in May, it seemed like this long saga would end for everyone involved in this situation. Zhang Heng would be able to return to China and get the proper travel documents for his children without Zheng Shuang's (郑爽) approval. Zheng Shuang was granted limited visitation rights and an opportunity to expand the scope of her custodial rights if she got therapy.
However, shortly after the verdict was handed down, Zhang Heng addressed a post at Zheng Shuang's fans asking them to "let his children go", alleging they were verbally attacking him and his children out of love for their idol. Things seemed to simmer down after that. On June 15, there were reports from Zheng Shuang's fans that her cousin had reported Zheng Shuang was doing well lately. It's unclear if she has returned to China yet as she is still being investigated on suspicions of tax evasion and fraud.
On June 20, it was Father's Day in China and the US. Zhang Heng posted an animated picture of his children, Luka and Luna, his mother, and himself, looking into the sunset. He wrote, "Today, I heard the children say, "Daddy happy happy……", happy was repeated several times. This type of feeling is especially bittersweet and happy. Thinking of my father who is far away, I promise: 'No matter how difficult the road to home is, I will still come back, bringing [your] grandson, granddaughter to reunite with you! Happy Father's Day!"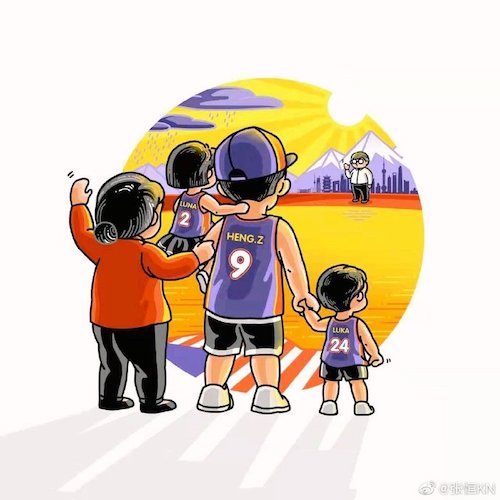 Some netizens left comments insulting Zhang Heng, which triggered him to respond back.
Netizen 1: "Did you pay the surrogacy fee? Want kids, but can't have them yourself? Those are only the rich lady's kids. Rich lady's kids don't need a dad. Heng is gay — forcing [yourself] to be a dad, swindling money, number one gigolo."
Zhang Heng responded: "I paid majority of the fees. Thank you. Do you really wish for me to post what the truth really is?"
Netizen 2: "Hurry and come back, come back and pay back the money."
Zhang Heng: "You really wish for me to post the real reason?"
Netizen 3: "When the children are grown up, they will know their parents' fighting was caused by [their] father's cheating."
Zhang Heng: "You should actually go ask her, ask her how many times she cheated."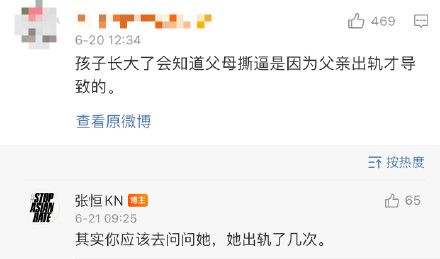 In the sea of comments attacking Zhang Heng, asking when he paid back the money, and asking "how hard it is to go back to China?", there were a small amount of supporters wishing him a "Happy Father's Day". One netizen said, "Between money and children, you chose the children and also raised them with your own hands. That is already worthy of us cheering you on. Persisting until the end is victory!"
On June 22, Zhang Heng posted an excerpt of what seems to be a petition dated May 26, filed on behalf of Zheng Shuang, to remove certain sections from the custody verdict regarding his rights to relocate their children. In addition, the petition shows Zheng Shuang's camp requested to add a stipulation that would require both parties to seek approval with a judge if either parent were to relocate their children elsewhere. However, Zhang Heng doesn't state or show proof on whether these new provisions were approved by a judge. This was in response to netizens asking him how hard could it be for him to return home stemming from his Father's Day post on June 20.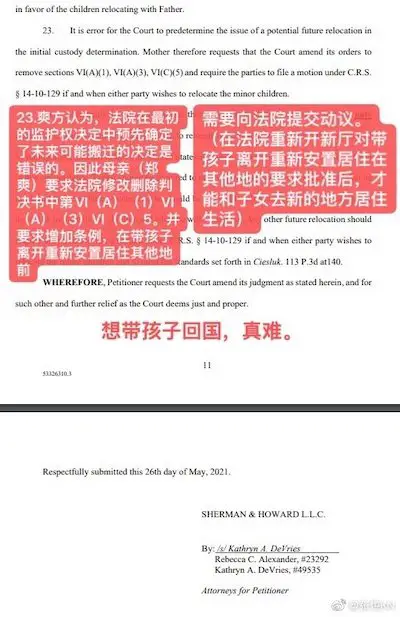 The most liked comment on this post says, "If you didn't cheat and treated Shuang wholeheartedly, it also wouldn't have gotten to this stage." Zhang Heng once again responds, "You should go ask her how many times she cheated. You really wish for me to post the relevant truths?"
In an almost 360 degree turn, the comments on this post are now attacking Zheng Shuang with comments like, "In order to evade the law, blocked the children from coming back to the country.", "This is correct. Shuang fans don't want face. Just slap their faces one by one. Don't let them off easily anymore!!!", "Zhang Heng can't return because Zheng Shuang blocked the children from returning to China. If the children returned, what excuses does Zheng Shuang have left to stay in America? None!! Here comes the problem. Why doesn't Zheng Shuang dare return to the country?"