Back in October 2020, internet celebrity blogger by the name of "Cauliflower King" (lit. 花椰菜大王), posted that she was being sued by Star48 Culture for copyright infringement for using three Ju Jingyi (鞠婧祎) pictures in an article comparing her hairstyles. Ju Jingyi's side was seeking 400,000 RMB in damages.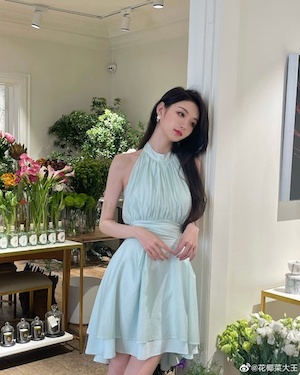 "Cauliflower King" had used Ju Jingyi's pictures and edited her hairstyle for a side by side comparison. She accompanied it with this text: "An operational guide to get the same hairstyle as Ju Jingyi without going under the knife and adds points to her appearance." Star48 sued the blogger for unauthorized use of Ju Jingyi's images claiming they were used for commercial purposes and also defacing her photos.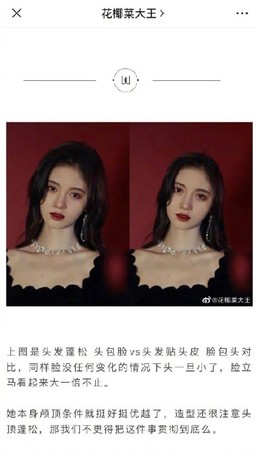 The courts ruled in favor of "Cauliflower King" and dismissed all the charges against her. Star48 issued a statement saying "Cauliflower King" had taken things out of context with a document that still wasn't legally in effect yet and misled the public. They would continue to gather more evidence and reserve the right to appeal the judgment. Star48 did follow up with an appeal. "Cauliflower King" posted on July 14 and revealed that Star48 lost their appeal once again. She also said, "Although I don't know how an article that was praising her beauty throughout and used two pictures complimenting her hairstyle was well done would be worthy of them to appeal so seriously once again, but the law is still fair and just."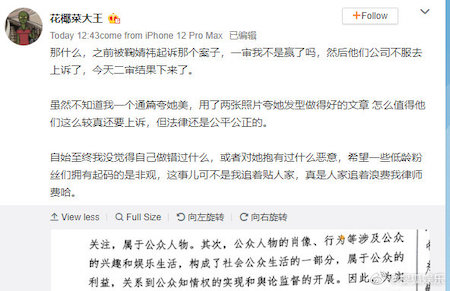 According to the judgment revealed by "Cauliflower King", the courts ruled that the pictures she used of Ju Jingyi were public images. They found her article didn't deface, slander, or vilify Ju Jingyi nor it did take advantage of Ju Jingyi's images to advertise or promote products to readers. So there is no illegal use of Ju Jingyi's images. "Cauliflower King" also deleted the pictures and articles on her own accord once she received the lawsuit and subpoena. The courts also found that Ju Jingyi's side provided insufficient evidence to support their claims she suffered from mental and financial damage from this incident. As a result, their appeal was dismissed and the original judgment is upheld.