Many celebrities have been following the Tokyo 2020 Olympics. Taiwanese entertainer and host, Dee Hsu (小S), angered Chinese netizens on August 1 when she referred to Taiwanese Olympians as "national athletes". She also cheered on the Taiwanese competitors, women's badminton silver medalist Tai Tzu-ying and men's badminton doubles gold medalists Lee Yang and Wang Chi-lin, when they were up against Chinese athletes. Tai Tzu-ying had also said she was proud to win a medal for Taiwan and uncovered that she previously mentioned she was also a "national athlete". With Dee Hsu showing support for Tai Tzu-ying, Chinese netizens felt she was supporting Taiwan independence.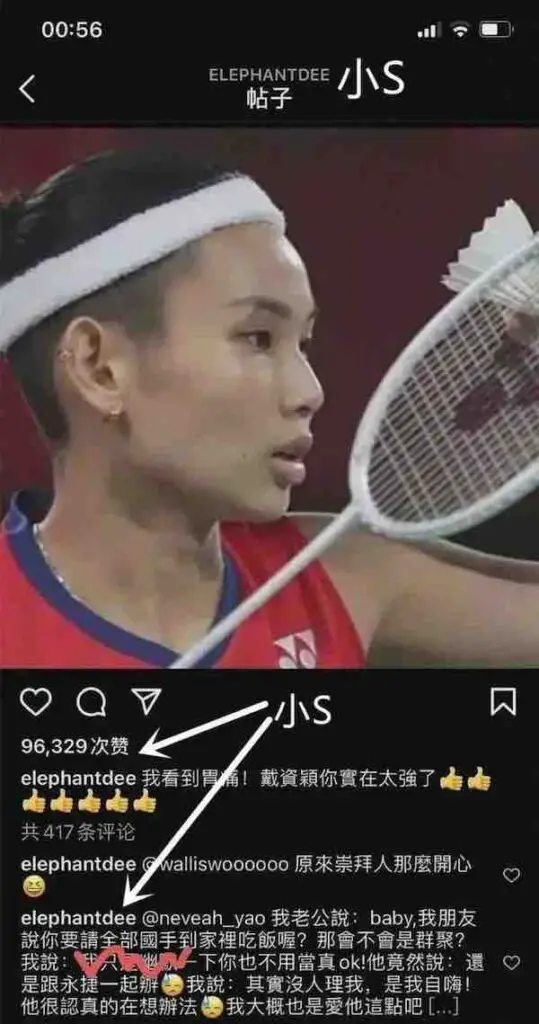 Dee Hsu started trending in first place on Weibo with over 10 million mentions. Chinese netizens called Dee Hsu a Taiwan independence supporter and told her to "f*ck off". Some comments include, "If you want to come to China to make money, then learn from Nana Ouyang.", "Xiao S brought this onto herself. Everybody used to love her a lot, but there are no idols in front of the country. The motherland's interests surpasses everything. Taiwan, China can never be denied.", Xiao S dug a hole for herself, who is to blame?"
Due to the backlash, Dee Hsu's endorsers terminated their partnerships with her. Oriental House: "The nation's interests surpasses everything, firmly support a one-China principle." OSUGA: "OSUGA insists on defending the one-China principle, firmly supports the reunification of the motherland, firmly opposes all comments or actions that will split the country." CLEAR confirmed that their contract with Dee Hsu and her daughter, Elly, had already expired. JORYA also stated their contract with Dee Hsu's daughter, Elly, had already expired.
Dee Hsu spoke to the media and said, "Let me rest a bit first, okay?" Dee Hsu's mother also spoke to the media saying she and Dee Hsu's husband already gave her a scolding and that they both felt she was way too passionate about the Olympics this year. She said Dee Hsu is very dejected right now and didn't think she would lose out on her endorsements. She also said, "Xiao S thinks every athlete is excellent and every sport is very awesome. Xiao S is requesting the manufacturers and netizens not to blacklist her. Xiao S also hopes the the manufacturers' sale volumes won't be impacted by this scandal."
Wang Xiaofei (汪小菲), Dee Hsu's brother-in-law, also reposted a post that listed Dee Hsu's past comments of how proud she was to be Chinese. He also said Dee Hsu had a big reaction from getting the AstraZeneca vaccine the previous day. She had been sleeping all along and explained that's why she said she needed to relax. Wang Xiaofei said he has known Dee Hsu for over 10 years and that in their daily conversations, they are always talking about the hope for people from both sides of the straits to peacefully recognize their ancestors. However, he has since deleted both posts.