Chinese dramas are usually known for going the family friendly route when it comes to love and intimate scenes due to censorship considerations. Kiss scenes in C-Dramas have come a long way from the days when kisses were mere pecks or just lips touching lips without any movement from the mouth. "You Are My Glory" (你是我的荣耀) is one of the recent dramas where netizens felt it was truly a series for mature audiences. At one point, the hashtag "RongYao Couple Adult Style Romance" was trending because of the realistic adult like relationship between "Yu Tu" and "Qiao Jingjing".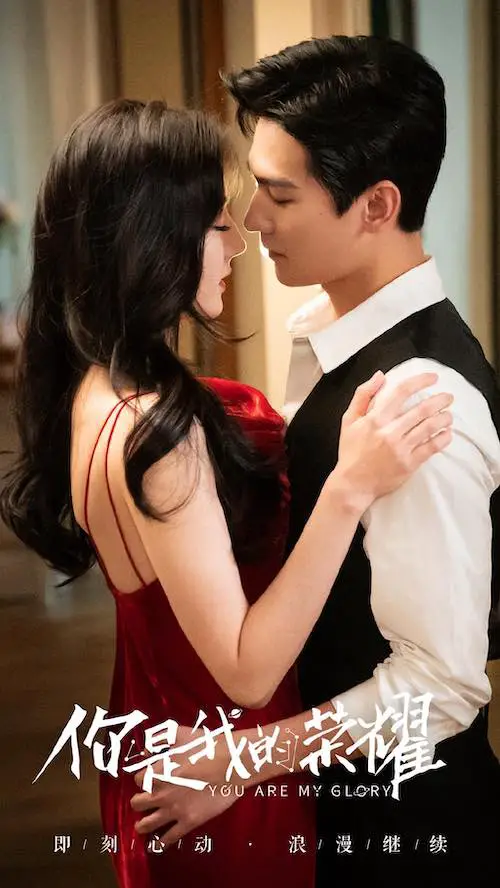 For Tencent VIP members or Fast Track buyers, episode 23 shows a scene of "Yu Tu" and "Qiao Jingjing" video chatting. "Yu Tu" revealed he is writing a letter in response to Qiao Jingjing's question about immigrating to Mars. He included the lead character, a 17 year old female high school student, "Yu Xiaoqiao", who won a summer trip to Mars by buying fried chicken for a classmate tutoring her in Math.
"Qiao Jingjing" noted that the female lead's name is a combination of their names. "Yu Tu" explained that immigrating to Mars is still a long way off so he decided the lead should be one of their descendants. There would also be a possibility she would have a name such as "Yu Xiaojing". "Qiao Jingjing" then asks why she needs to be tutored, "Didn't she inherit your genes?". "Yu Tu" responds, "That's a question for you, Ms. Qiao. Will you allow my genes to influence your genes?"
It's at this moment when he said, "influence your genes", around 03:17 in the clip below, where several netizens noted Yang Yang's (杨洋) mouth movement differed from the audio. You can also hear the line was dubbed over with Yang Yang's voice. Netizens caught the original line he was mouthing is "融入" (rongru), which means to assimilate or to integrate, but it was dubbed with "影响" (yingxiang, to influence). Saying, "Will you allow my genes to integrate with your genes?", sounds a bit more suggestive than "influence your genes".
The scene about influencing genes trended on August 12. The top comment on the video posted by Sina Entertainment said, "The mouth movement is rongru (to integrate) hahaha." Sina Entertainment responded back saying, "Watching it so seriously". More netizens left comments saying, "Rongru (to integrate) is too voracious, it wouldn't pass the censorship review, right?", "Yes, it is "rongru" in the script.", "Yu Tu, I'll allow it, come quickly!", "Can you guys not have so many hot search trends? Can't even let others work hard~ I was actually giggling here all day."