Since August 13, Zhang Zhehan (张哲瀚) has been the center of a national controversy when his past social media posts that were deemed to be offensive and visits to shrines honoring Japanese war criminals went viral. Zhang Zhehan was labeled as a traitor by netizens and they had given him the nickname, "瀚奸" (hanjian). It takes the "Han" from Zhang Zhehan's name and is a play on the word, "汉奸" (hanjian), which literally means traitor to the Han Chinese. The term was coined during the Second Sino-Japanese War to refer to the "collaborators" who sold out China and worked with enemy forces.
The matter gained a lot of attention among the public and government entities due to the sensitivity of the situation. Zhang Zhehan issued an apology and explained he was ignorant and unaware of the historical, cultural, and political backgrounds of the places he visited in Japan. He also denied being a Japanophile and declared he loved his country. Zhang Zhehan's studio and official fan club had also apologized and expressed love for their motherland. By the end of the day, all of Zhang Zhehan's endorsements had been terminated by his brand partners. He was dropped from his variety shows. State run newspapers said his apology was to pay for the price of his ignorance and the hurt he caused to the nation.
On August 14, Zhan An (斩鞍), the author who wrote "Novoland: The Princess From Plateau (九州朱颜记)", had commented on an article by the Communist Party's bimonthly journal, "Ban Yue Tan" (半月谈), about Zhang Zhehan's situation. He wrote, "So we can't even visit the Yasukuni Shrine? It's baffling." He continued writing posts saying how Chinese people should visit the Yasukuni Shrine to experience the history of Japan's war criminals and history of their invasions in person versus reading it in books so that people "wouldn't think that Japan was only full of good food, good landscapes, clean environments, and friendly citizens and wouldn't get to a scenic spot and think to throw up a 'yeah' sign", which is in reference to Zhang Zhehan throwing up a "yeah" sign at the Yasukuni Shrine.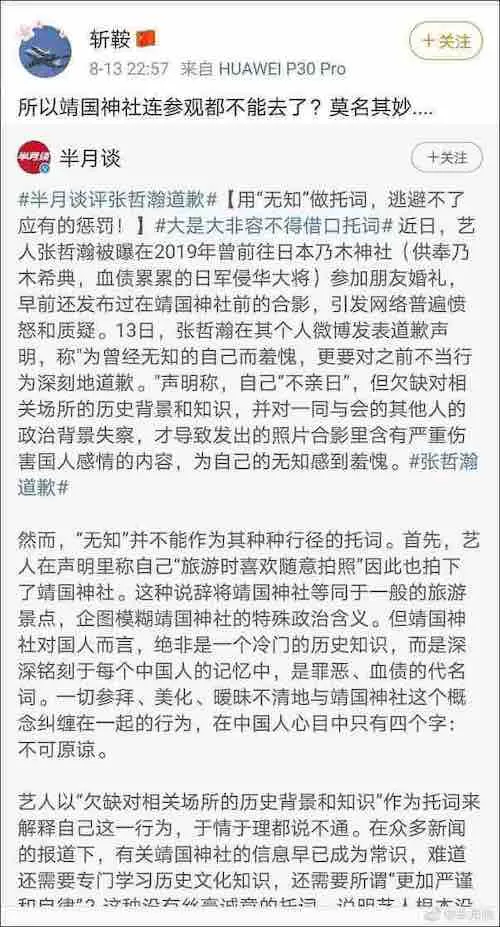 The Ban Yue Tan responded to Zhan An's question about visiting and they said, "You can't, forever." Zhan An received a lot of backlash and criticism from netizens for his viewpoints. He deleted the posts, but his account was also shut down by Weibo for violating the Weibo Community Convention. The production team for the drama adaptation of "Novoland: The Princess From Plateau" issued a statement saying Zhan An only wrote the novel, but didn't participate in any part of the scriptwriting or creative process.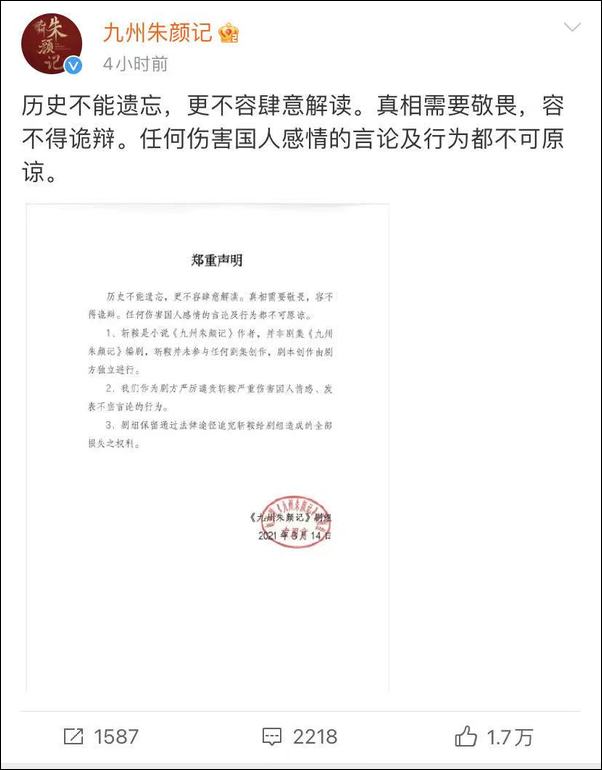 August 15 marked the 76th anniversary of Japan's surrender of their defeat in World War II. It was also on this day that the Chinese Association of Performing Arts (CAPA) commented that performers working in the cultural field establishing correct historical views is basic professional ethics. Ignorance is not an excuse. They also said Zhang Zhehan's behavior is seriously inappropriate and not only has it hurt the national sentiment, but has also negatively influenced the youth. CAPA is denouncing Zhang Zhehan on moral grounds and requiring the members of CAPA to boycott him from the industry. The Central Commission for Discipline Inspection (CCDI) also remarked that "ignorance, oversight, and a lack of historical knowledge of relevant places can't be used as a shield."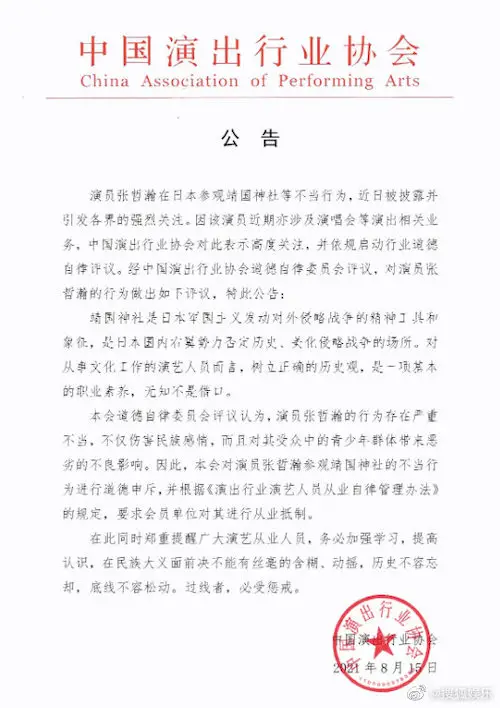 Later that day, Zhang Zhehan's personal, studio, and super topic accounts were shutdown by Weibo. His personal and studio Weibo accounts were first suspended from posting, but Weibo issued a statement that they decided to shut down his accounts and super topic due to his "harm to the national sentiment and negative influence to the youth". His Douyin account was also taken down and his music removed from QQ and NetEase Music.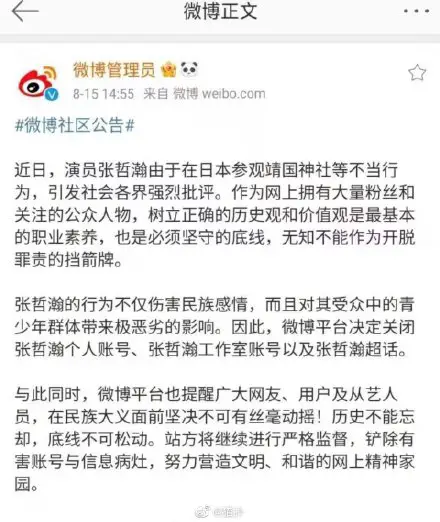 His name was removed from the cast list of "Word of Honor" on YOUKU's site.

Hours later, Zhang Zhehan's official fan club was also shut down by Weibo for violating Weibo's Community Convention.