On August 16 at 8:30 pm local time, the Beijing Chaoyang District People's Procuratorate announced they had approved the arrest of Kris Wu(吴亦凡) on suspicion of rape after conducting an investigation according to the law. This is the first official update since Kris Wu's detention on July 31. The news of his arrest was trending on Weibo with over 23 million mentions at its peak.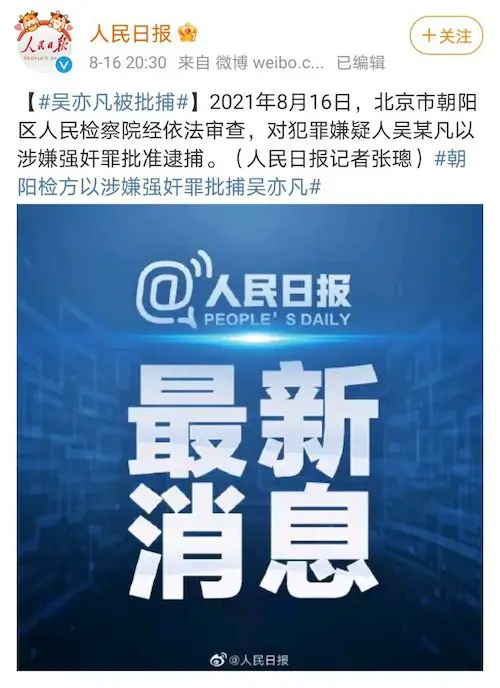 Kris Wu was criminally detained on July 31 by the Beijing Chaoyang Police district on suspicion of rape. The police conducted an investigation based on multiple online reports alleging Kris Wu was "repeatedly luring young women to have sexual relations and other related situations."
Du Meizhu (都美竹), who was the first victim to come out and accuse Kris Wu of the alleged crimes, had liked the official post of Kris Wu's arrest. She also shared her happy sentiments with her fans group chat saying, "Finally, grateful for Chaoyang Police. They are really good. Thank you guys. We'll all be good."
Following the news of Kris Wu's arrest, many of his works were taken down from Chinese streaming sites. A lawyer responding to Sohu Entertainment's inquiries about Kris Wu's case said he can face up to a minimum of 5 years in jail if convicted.