On August 16, Tencent made the last episodes, 27-32, for "You Are My Glory" (你是我的荣耀), available for users through fast track (in certain regions). However, many users complained about the site not working on Tencent and WeTV, Tencent's overseas brand. Users would load the site or app and get an error message. Due to the complaints, the hashtag, "Tencent Video collapsed", was trending at number 1 on Weibo with over 19 million mentions at its peak.
Netizens started voicing out their complaints at 8pm, which is also the same time "You Are My Glory" episodes aired. Many netizens expressed they paid for fast track to watch "RongYao CP's" wedding (episode 30). Some comments include, "Am I crashing or is Tencent crashing? I won't make it in time for RongYao Couple's wedding", "Commemorate this time in history, because of a tv series, you actually crashed.", "Don't want me to spend money?", "I just want to attend a wedding, is that so hard?"
Tencent's "Tencent Video TV Dramas" Weibo account addressed the issue at 8:39 pm: "The wedding's threshold has already been broken by everyone. Currently under maintenance at full throttle."

However, there were some netizens who were skeptical that Tencent crashed because of "You Are My Glory". Some even suggested that Tencent was down because they were busy taking down Kris Wu's works whose arrest was officially announced by authorities at 8:30. Shortly after, there were reports that a lot of Kris Wu's works were taken down from streaming sites. At 8:56, Tencent Video had issued another update saying their servers crashed because of a great influx of enthusiastic users watching. Tencent Video reported back at 9:20 pm that the issue was resolved.

A netizen dispelled the skepticism with a screenshot of a Tencent employee responding it was "You Are My Glory" that crashed Tencent. WeTV users were also experiencing similar crashing issues (see pic 2). This is quite unprecedented for Tencent AND WeTV servers to crash at the same time because of one series — all thanks to "You Are My Glory", Yang Yang (杨洋), and Dilraba (迪丽热巴).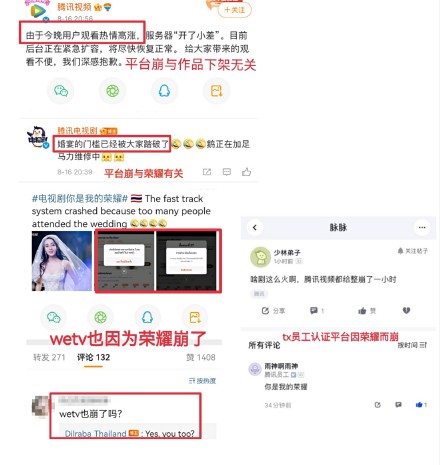 Another netizen commented that her husband said the crash wasn't caused by too many people watching "You Are My Glory", but it was the result of too many people paying at the same time, meaning they were all paying for fast track to see the final six episodes.
The Weibo accounts for "Yu Tu" and "Qiao Jingjing" were also updated with celebratory messages for their wedding. "Yu Tu" wrote, "Thank you everyone for your blessings". Yang Yang left a comment on "Yu Tu's" account saying, "Received Yu-xiong's (brother Yu) wedding candy", and included a picture of White Rabbit candy.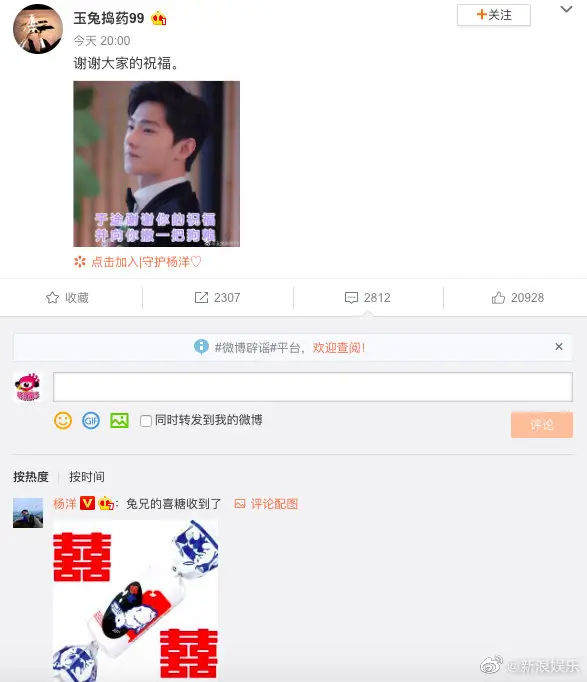 "Qiao Jingjing" said, "It was such a wonderful choice to participate in a mass wedding. Thank you everyone for your blessings and support. Giving everyone a special, "cloud wedding gift". Please catch Jing's bouquet!". Dilraba did an audio recording giving her blessings to "Jingjing" and wishing her a happy marriage. She also said, "If there is a chance in the future, we must film together."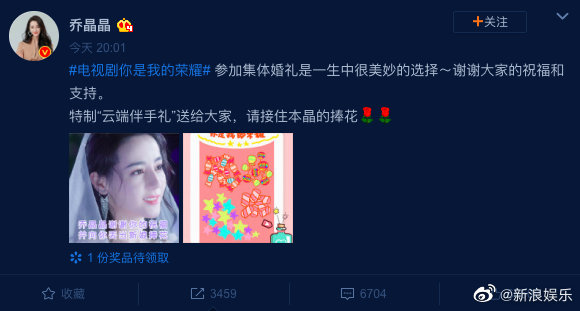 According to Miaoyan, a site that tracks the Chinese box office and drama ratings, "You Are My Glory" raked in 30 million views after one hour into airing and a total of 116 million views just on August 16 The total views for the series has reached 2.52 billion views as of August 16.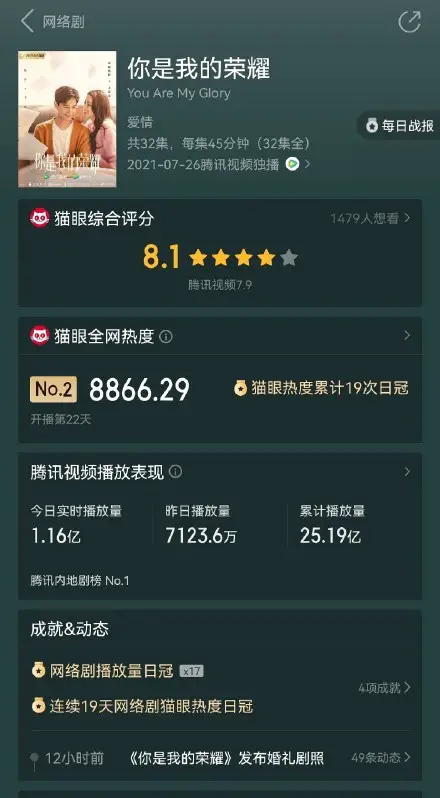 Like Dilraba, fans are also manifesting for another collaboration between Yang Yang and Dilraba. The series ends for VIP users on August 23 and for non VIP users on August 30.