Yang Mi (杨幂) was trending on August 18 when netizens spotted her hanging out with her bestie of many years on a rare day off from her busy schedule. They were spotted shopping in the Sanlitun area and the 798 arts district in Beijing. However, Yang Mi trended a second time on the same day when a man attempted to hit on her at a coffee shop while she was out with her bestie.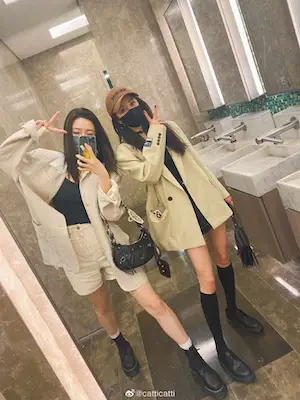 A video was released showing a man coming up to Yang Mi and her friend while they were at a coffee shop. The uploader of the video claims that the man didn't know he was approaching Yang Mi. According to the uploader's description, the man was holding a cup of coffee and wanted to treat Yang Mi to one too. However, Yang Mi rejected him saying she already ordered. Her friend also seemed to tell him the same thing and he eventually left.
The uploader kept saying the man didn't know it was Yang Mi. However, from the angle of the video and the way the uploader described the situation in detail makes one question whether this was staged by the person filming and the man approaching Yang Mi. Some netizens and fans questioned how would the uploader know the man was trying to hit on Yang Mi.