Content Warning: The following content may contain references to date rape, drugging, rape, and/or sexual assault.
Content Warning: The following content may contain verbal and/or visual references to suicide and/or self harm. If you or someone you know is suicidal, please seek assistance with your local suicide intervention group:
https://www.opencounseling.com/suicide-hotlines
On August 24, HunanTV host of variety show, "Day Day Up" (天天向上), Oscar Qian Feng (钱枫), was trending when a netizen known by her online nickname, Xiao Yi ("小艺希望坏人被惩罚), uploaded a series of posts accusing him of allegedly raping her in 2019.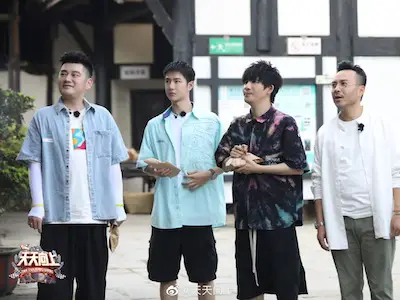 Xiao Yi introduced herself as a southern girl born in the 90s and worked in television after graduating. In 2018, she was invited by "Day Day Up" to record a show. During their rehearsal, she said she didn't have any interactions with Qian Feng. When she returned to the hotel that was arranged for her by the show, she received a message from a staff member saying that one of the hosts wanted to get to know her and add her on WeChat. Xiao Yi explained that because she didn't respond to the request quick enough, another staff member rushed her to exchange contact information.
She said it was friendly talking to Qian Feng in the beginning. He had asked her out for a meal many times, but they never met up. Xiao Yi had already returned to Shanghai after the show finished recording. On February 14, 2019, Xiao Yi met Qian Feng for the first time outside of the show at a dinner with a few of his friends.
Xiao Yi claims Qian Feng persuaded her to drink a lot of fruit wine that night. She has eaten here before so she said the fruit wine has low alcohol content. However, Xiao Yi said she felt very dizzy, uncomfortable, and fuzzy after dinner. She highly suspects her drink was possibly spiked with drugs.
After dinner, Qian Feng suggested to go to a KTV. Xiao Yi said she was already unconscious at this point. When she woke up the next day, she had a really bad headache and found herself lying naked in a strange bed. She screamed and when she turned around, she saw a naked Qian Feng lying next to her. Xiao Yi claims Qian Feng started consoling her that she drank a lot last night and insisted on going home with him. "Because he liked me, he couldn't help but bring me back. Afterwards, he couldn't bear it and we had relations (sex)."
Qian Feng reportedly told her, "Don't be scared. I wore a condom." Xiao Yi said he even pointed to the used condoms at the bedside table. After absorbing everything, Xiao Yi got dressed and left his home. She discovered her clothes were torn apart.
Xiao Yi returned home and said she cried while showering as she discovered many scars on her body. She called the rideshare driver that drove her and Qian Feng that night. Xiao Yi said the testimony from the driver was that Qian Feng was getting touchy with her and she told him to stop and she was getting angry. Xiao Yi kept saying she wanted to go home, but Qian Feng kept dragging her out of the car.
Afterwards, Xiao Yi went to Qian Feng's residence and told the security guard that she wanted to see the security footage as she lost something. Xiao Yi said she was unconscious and incapacitated that night. She had fell on the floor a few times, but Qian Feng had forcibly dragged her away and practically dragged her into the room.
Xiao Yi started to question Qian Feng after she found out about the truth. She said Qian Feng tried to coax her by showering her with money and saying that he wanted to date her to keep the situation under wraps. Xiao Yi says he is a pro at this by observing his behavior. She didn't take any of his money or fall for his lies. Xiao Yi directly called the police and they brought her to get her injuries checked, which concluded that she had vaginal tearing. Her health report is currently stored with the Shanghai Gubei police.
The police told Xiao Yi and Qian Feng to go to the station. According to the Xiao Yi, Qian Feng blocked her and begged for mercy when they were across the station. She rejected it and hoped that he would get severely punished by the law.
After the police took Xiao Yi's testimony, there was no follow up. Xiao Yi said she committed suicide a few times, but was saved by her friends. She experienced severe depression in the past two years, often cries, harms herself, and can't get a good night's sleep.
Xiao Yi said she can't watch HunanTV anymore as she's afraid of seeing "the rapist". She found it absurd when she saw Qian Feng's name was the biggest on the pledge signed by HunanTV hosts promising to have moral integrity.
Last year, Xiao Yi inquired with a lawyer friend about her case. Based on her evidence, he said it was rape without any doubts and doesn't understand why the police concluded not to open the case. Her friend urged her to stand up against Qian Feng so he gets rightfully punished.
Xiao Yi believes there are definitely more victims based on his poised demeanor and pattern after the incident. She called for more victims to come forward.
Xiao Yi said she will take responsibility for each word she said. She uploaded a few screenshots of her conversations with someone named "Qian Fengqu", which is reportedly one of Qian Feng's names. In one of the chats, Xiao Yi reportedly tells Qian Feng that it was raining when she left his home and she couldn't get a car. She had a huge headache and only found out her clothes were ripped from an old lady telling her. Xiao Yi said she had wanted to go to the police. Qian Feng's response was, "I should've just called a car for you at that time. I saw you were in such a hurry."

In a separate text, Qian Feng questions Xiao Yi, "Weren't you very clear-headed this morning?". Xiao Yi then asks, "So you're not admitting to having sex with me while I was unconscious?" He responds, "What does that even mean?". Xiao Yi continues to ask, "Did you ejaculate inside? You said you wore a condom. You weren't even drunk. You even helped me take off my earrings, charged my phone. I said, didn't you f*ck me when I wasn't conscious?" Qian Feng responded, "No, I didn't get hard."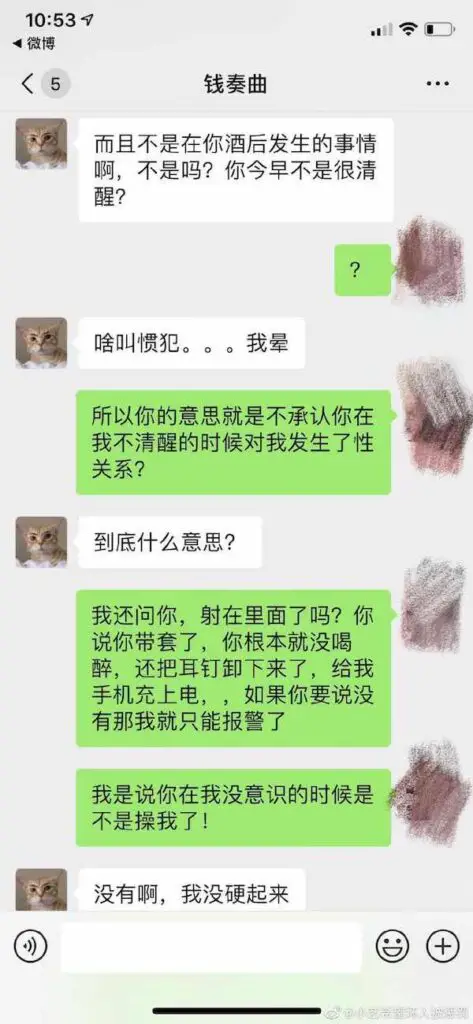 In the other texts, it shows Qian Feng trying to shower Xiao Yi with gifts to coax her. He also sent her three payments of 5,200 RMB. Xiao Yi told him she didn't need money and that she had already reported it to the police. Qian Feng proceeds to tell her that he really respects and likes her and wants to continue date her. He also wants to see her in person to "talk things out".
Afterwards, Xiao Yi released a clip of the security footage she had to personally get from Qian Feng's residence. It shows a woman that was unconscious being dragged by man to go into a room. The faces can't be seen, but some netizens discovered Qian Feng's outfit from February 13, 2019 looked very similar to the one worn by the person in the video.
Xiao Yi issued another post addressing netizen's suspicions about her story like why she waited two years to file the police report and that she is doing this for money and clout. She explained the police report shows that she filed on February 15. The sexual assault took place on February 14. As for why she decided to come forward two years later, Xiao Yi said she was afraid of being cyber bullied.
From the night of February 15 to the early morning of February 16, Xiao Yi said Qian Feng confessed to raping her ("Sorry, I raped you.") while getting interrogated at the Shanghai Hongqiao Road police station. After Qian Feng confessed to the rape, the police reportedly asked her to sign a mediation letter. She refused and shortly after, she received a notice that the police weren't going to file the case. She ended up signing the letter as she didn't understand the law.
Xiao Yi also included an audio clip of her speaking with the police after she filed a report.
After the news about Qian Feng being accused of rape, HunanTV immediately issued a statement that they would be suspending all of his work activities. A employee at the restaurant Xiao Yi and Qian Feng went that night claimed that the police did go there to collect evidence after the incident.
However, 11:30 pm, the Shanghai Changning Police issued a notice that after going through a thorough investigation, collecting evidence, and interviewing all involved parties, they determined that "the current evidence cannot prove the existence of a rape crime." On March 15, 2019, the Shanghai Changning Police sent Xiao Yi an official notice of their decision not to open a case. They informed Xiao Yi that she could apply for a reconsideration on their decision within 7 days of receiving the notice. They said Xiao Yi didn't object and signed documents acknowledging the outcome. They also said she didn't apply for reconsideration. She was welcome to provide new evidence, in which they will investigate.