On August 23, WayV member, Lucas (黄旭熙), was trending on Twitter and Weibo when a Korean netizen claiming to be his fan said she dated him and was here to expose him.
*English translations were combined from these two Korean to Chinese translations as there were some slight differences between the two versions.
This netizen said that Lucas had expressed he had a good impression of her and gave her his number. They started dating from there on, but one day he suddenly told her that his schedule was too tiring and wanted to break up. She said the problem break up wasn't messy, but the problem started from there.
The second day after they broke up, this netizen said Lucas suddenly told her, "I want to see you. Let's be friends." So she decided to become friends. However, whenever it was time for her to rest, he would send her details about hotels or go to her place. She always paid for everything including buying things and claims Lucas told her to buy cigarettes for him. When she didn't get it for him, he would reportedly ask, "Why didn't you buy them? Of course you should go buy it." or he would say that he is an artist and can't go out. If he used his card, his manager would find out.
The manger said Lucas had a very fussy personality. All his requirements had to be met. He would sometimes just tell her the hotel he wants to go to and haves her book it. She would often buy him luxury goods. In the beginning, he would say thank you, she doesn't know when it started, but he told her if she was earning money for him, don't waste money unless she's buying him a house or a car.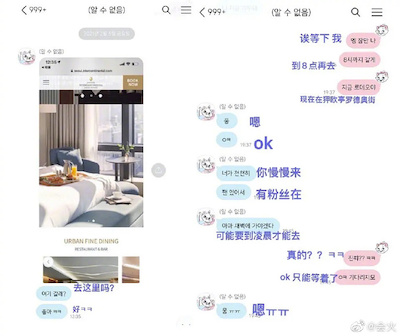 Lucas reportedly told her she is the only person that understands him, "In any case, it's gaslighting." Every time they go to the hotel, they eat, sleep for a bit, and then leave. From the moment they check out of the hotel, they start to lose contact and he seems to draw the line from each other. She felt very uncomfortable. He didn't even say one word of thanks. "It feels so natural for him to spend my money." (She said she had lived in the hotel for 4 days prior to Lucas visiting her.)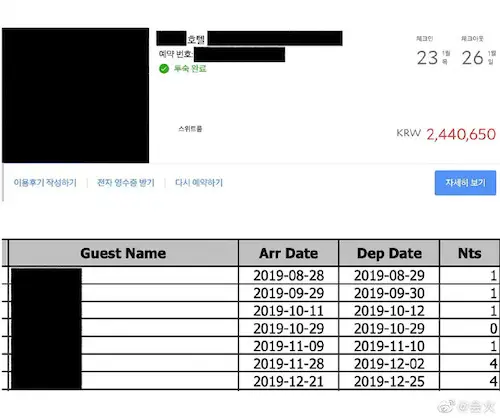 In the past few years, she and Lucas were dating on and off quite a few times. She said she was tired of hearing so many hurtful things like, "I really hate you for being too much like a fan.", "Don't appear to be like an idol's fan next time.", that she started to get depression. She explained that she liked him so much in the past that she never asked him to take a picture with her or secretly take pictures of him. She never mentioned him to friends as she couldn't let her family find out.
When he was in China lately, he would continuously contact her, but about a month ago, he started emotionally abusing her. Around a month or ago, she said she would sue him. The next day, Lucas left the chat and changed his KakaoTalk number. She said she rather be an ordinary fan instead of dating him so that she wouldn't have regrets for people like him.
Many international and c-fans were skeptical of this person's story and evidence. The fan uploaded an audio clip that Lucas reportedly sent her through WeChat. However, a netizen questioned why they're not using KakaoTalk to communicate if she's Korean? She confirms the audio clip is of Lucas, but says it's a combination of two clips that he sent to fans in bubble. This netizen also said the screenshots are photoshopped because the format of those dates don't match any social media app's styling. As for the timing, this netizen said Lucas was busy promoting with WayV and Super-M and in 2019 wouldn't have had time to go for hook ups. They claim the chat records and the hotel receipts could be faked.
On August 24, SM Entertainment said, "No comment" regarding Lucas' rumors.
On August 25, after two more Chinese netizens came forward with their experiences with Lucas, the Korean netizen wasn't aware he was allegedly cheating on her with so many people. She said he tried calling her yesterday, but she didn't pick up. The "lokass444" username is the same as the chats the first Chinese netizen provided.