After a Korean netizen shook the Korean and Chinese fandoms on August 23 with her past experiences dating WayV's Lucas (黄旭熙) and alleging he was gaslighting her and ghosting her after their hotel meet ups, a Chinese netizen has come forward on August 24 with her experience.
This Chinese netizen prefaced her story that she hoped everyone could see through Lucas' so-called ("spoiling fans, kind") personas. "He only treats his fans as his harem, cheating, private messages, and casually squandered fans' love." She said Lucas was her first love in chasing after stars and used to be his fan. Prior to the breaking news from the Korean netizen, this fan said she would've felt so fortunate if he had privately messaged her.
Her first time chasing after stars was in the summer of 2019. During a Beijing fan signing event on December 2, 2019, her friend kept heckling her to write her Instagram and Weibo accounts in the letter that she would give him at the event. She thought nothing of it until the early hours of December 3, 2019, she received private messages from Lucas' alleged private Instagram and Weibo accounts.
She showed an Instagram account of someone asking for her WeChat account. She explained she only had these two messages left before he asked her to delete them prior to their hotel meet up. In the two WeChat messages, it reportedly shows Lucas asking her the second day they started chatting to go to Japan. He then suggests for her to go to his hotel to see him instead.
This Chinese fan got to the hotel around three in the morning. She said she was really nervous. He started to look for alcohol in the room, but after discovering there was none, he laid down and started to talk to her. He reportedly told her that he received a lot of letters at the fan sign, but only opened her letter because he had already noticed her in previous in person events. He would always bring her gifts with him. She told him, "This is the first time I am encountering something like this so I am at a loss. He responded it's also his first time. I believed it."
Afterwards, they chatted a lot about what's stressing him lately and latest updates. "When I asked him if he had ever privately messaged any other fans, he thought about it and said there was only one and was also Chinese. However, because he thought she wasn't good looking, so they only ate a meal together and chatted." He likes to chat with fans like this so he knows what they're thinking. Afterwards, there was no more contact.
After chatting some more, she asked him if he wanted to rest first as he is flying to Japan first thing in the morning. He said his member next door would wake up soon and would just pack up and go to the airport so he didn't plan on sleeping. "Afterwards, with the mood setting the backdrop, we engaged in other intimate behavior aside from 'pop pop' (having intercourse)."

Before leaving, he told her not to tell anyone including her best friend and family about their situation and made her delete their chat records. He then suggested to chat frequently on WeChat or meet up, but told her not to send him off or pick him up at the airport. He explained that he was tired every time he had to fly and didn't want to be active and would never notice fans' appearances who come to the airport, so there is no need to go.
She said she believed him when he said it was fate that they met. She believed him when he said among a crowd of people, only she can make him constantly think about her. When he had a Thailand fan meeting, she was upset they couldn't meet. So they talked on the phone for a long time. He told her about a past relationship before his debut. He loved his ex-trainee girlfriend a lot, but don't know why the company fired her. When he started getting busy after his debut, his girlfriend got depression, would often fight with him, and wanted to commit suicide. He felt he couldn't take care of her so he broke up with her. Later on, he didn't plan on dating. "So even though he likes me, but he has no way of dating me right now."
At the time, the Chinese fan understood his reasoning, but after comparing the time lines with the Korean netizen's story, "It's not that he has no way of dating, it's just that he has no energy to coax so many girls. Perhaps someone should introduce him to a time management expert."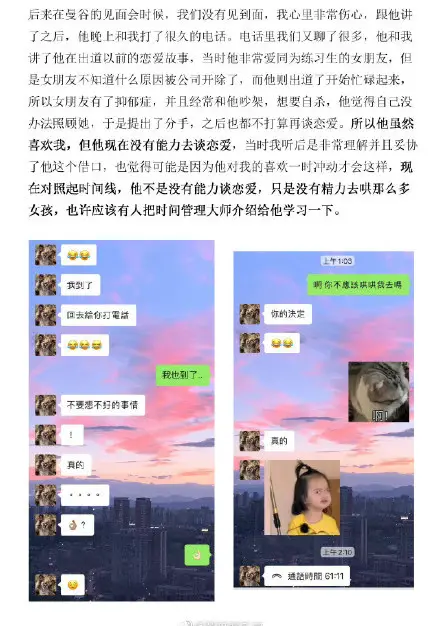 The second time they met up, it was at a Skechers event at Shenyang. In early hours of December 21, 2019, she planned to see him at the event. She ended up not going because of a fever. This is when she found out from a friend that another Chinese fan was also privately messaging with him. After the event ended, he went to look for her at the hotel. She said it was this time that they had intercourse without any protection. "I asked him at the time if he wanted to wear [a condom], he said it doesn't matter. However, his performance wasn't good. So afterwards, he told he hadn't 'popped' (had intercourse) in almost a year. I believed it once again. I didn't think at all that such a bad performance of his would, he would be hugging another woman that night he returned to Seoul."

After they had intercourse, she asked him about the other fan he was messaging. He said it was the same Chinese fan he told her about and showed their messages to her. They only ate together and he hugged her to express his gratitude, but didn't do anything else. Lucas was afraid of the other fan talking about them everywhere. When she asked him if he was afraid of losing fans, he said, "It doesn't matter if they quit being fans, I'm afraid the company will see it." Lucas said he was really scared and smoked almost a pack of cigarettes in two hours.
He then proceeded to tell her his schedule next year would be very busy. He might not be able to see her as he would get more and more popular. She joked with him that she would chase after another Hong Kong male artist that she really likes. He said, "It's okay. His girlfriend is my friend. We filmed a show together and even went to get our ears picked." They then talked about the people from his company. "He said even though he also used to like to play around when he was still a trainee, but he still thinks artists like Toothpick Wu (Kris Wu) are stupid c*nts." He felt they were just playing around and never practices. While she agrees with him, she thinks what he did isn't that much stronger. "If he is called Toothpick Wu, you are called Needle Huang."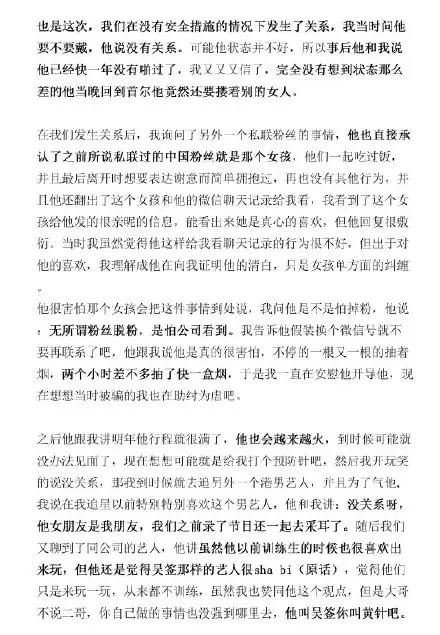 When he talked about about not being suitable to over-exercise, he mentioned when he filmed a military themed Korean show, he would think it's so tiring so he would pretend to say that this waist hurt to end filming sooner. He also complained about being evil edited like a huge idiot on a Chinese variety show he joined. He didn't like it and was always hesitant on whether he wanted to continue participating next season.
This fan went to all of his concerts. At the Seoul concert, she discovered that there were a total of three fans, including her, he was chatting up. In February 2020, he told her he wanted to be friends (she later discovered this was his MO to leave the "relationship".). They contacted less frequently. The next time they saw each other was reportedly this year when Lucas was spotted hanging out with Luhan. She had seen him at the same venue, but based on the messages, he wasn't aware she was also there. She even warned him to be careful.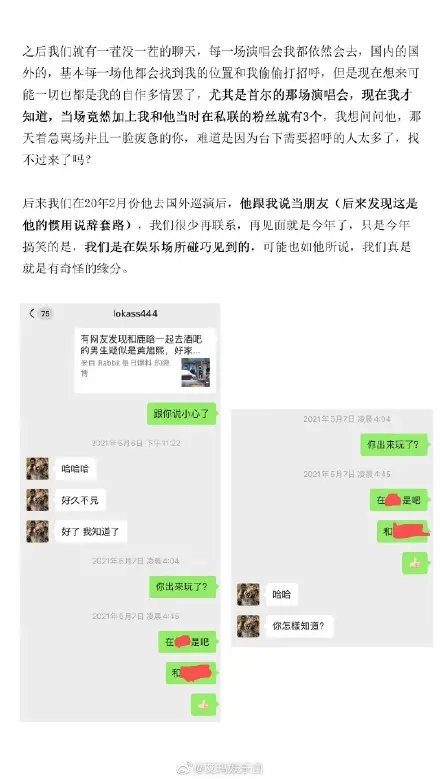 This fan also shared a timeline based on the Korean netizen's receipts of their hotel meet ups and how it tied with Lucas' events. She showed there were two overlapping dates, December 3 and December 21. She said that after his girlfriend left on December 2, he went to meet up with her. After he parted from her in the early hours of December 21, Lucas reportedly spent that night with his "Korean girlfriend".