The theme of the August 29th episode of "Day Day Up" (天天向上) explored old age. The show had the three hosts, Wang Han (汪涵), Da Zhang Wei (大张伟), and Wang Yibo (王一博), transformed themselves 30 years into the future and envision what their life will be like then.
Wang Han's change was most dramatic as they gave him a full head of white hair and beard, which is understandable as he would be 77 years old in 30 years. However, they thought Wang Han looked quite cool and would be the type to be wearing a leather jacket and riding on a motorcycle.
Wang Han and Da Zhang Wei poked fun at Wang Yibo's transformation saying he looks the same as he does now. When the staff member asked Wang Yibo if he thought he resembled his father, he didn't think so. In 30 years, he thinks he would look like his father when he was younger. When it came to the make up, Wang Yibo said they made him look older than his father.
Each person was given a card forecasting what they'll be doing in 2050. Wang Han said he was actually looking forward to the time when he reaches his 60s or 70s as he will be the most free, he won't have to work anymore, and his child will be all grown up. Wang Yibo hasn't thought about getting old at his age since it's still a very long way for him.
When it came to Wang Yibo's turn, the staff's description of his life at 54 years of age, described him as "The universe's most charismatic 50+ year old man. As the youth of a few generations, not only is he successful in his career, his family is also very happy and blissful. In actively responding to the nation's call to have three children, he has already become the father of three children now with both sons and daughters and is regarded as the 'most handsome father-in-law'.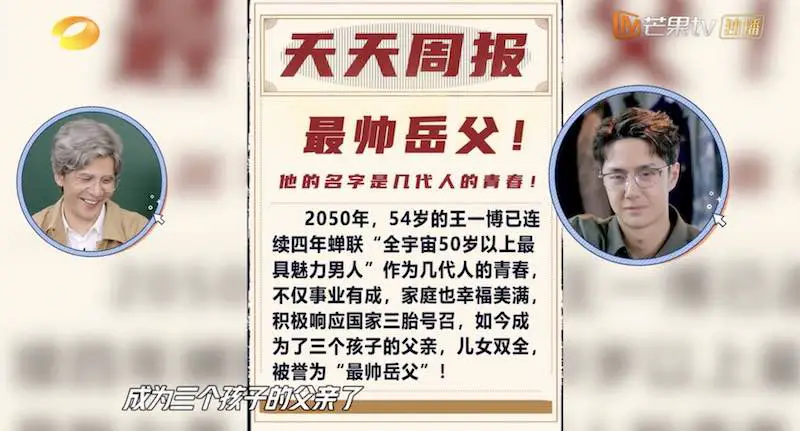 Wang Yibo told the staff member that his description was too exaggerated and that he doesn't think he is that awesome. When asked about having three children in the future, Wang Yibo says, "Three…probably two. Three is too much. In any case, I must have a son, to play with me. I will cultivate him to ride a motorcycle, snowboard, and skateboard."