With the new CAC's (Cyberspace Administration of China) "Qinglang" reform policies, it has become a very sensitive time in the Chinese entertainment industry. Many of the policies have started trickling down and also affected how music platforms such as QQ Music and NetEase Music have implemented a new rule to only allow one copy of an album or single to be purchased per account in an effort to thwart "unhealthy fan consumption behavior".
On August 29, a news publication, Jimu News, published a report about Cai Xukun's (蔡徐坤) album, "Unknown" (迷), was released on April 13 with 11 songs, but only 5 songs were released so far. Of the six unreleased songs, only five have song names. The album has sold over 3.23 million copies with a sales amount over 84.2 million RMB. Jimu News criticized Cai Xukun's pre-sale method for this album was "selling on credit" and called for the relevant authorities to take action.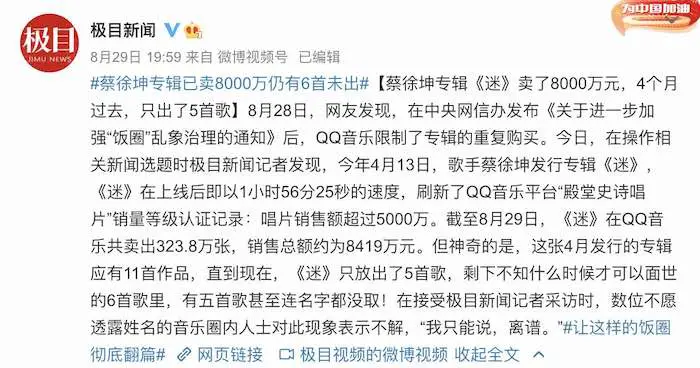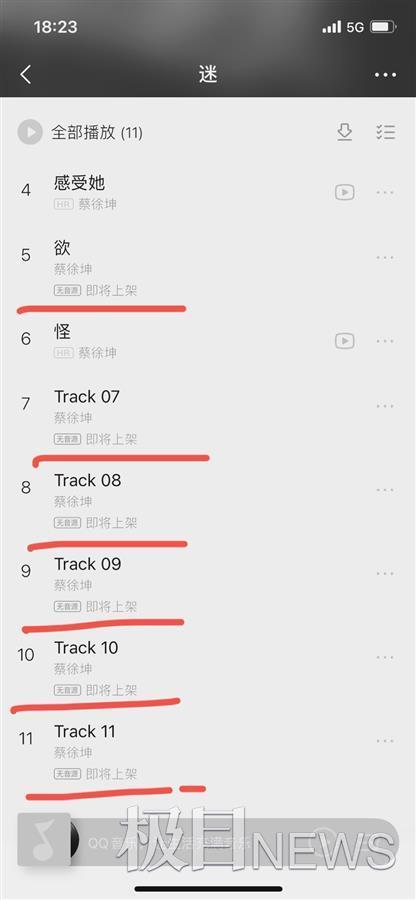 Cai Xukun's studio responded by releasing the total tracklist and 5 of the 6 songs on August 30. They also inquired with a lawyer that if there was no clear and direct notice prior to purchase of the album that they would be charging up front and dispersing the songs later, it could be in violation of the Law of the People s Republic of China on the Protection of Consumer Rights and Interests.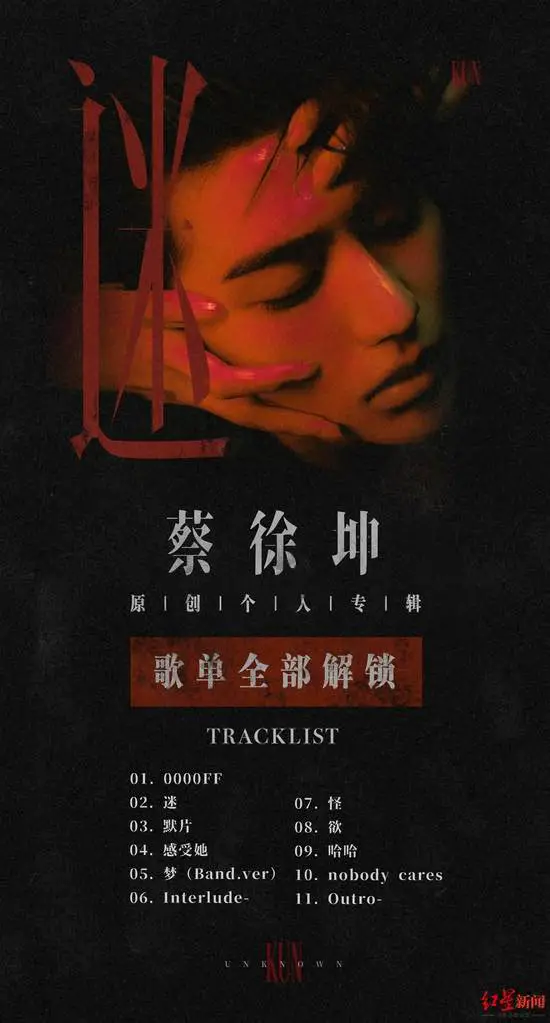 Some fans have said that there was a reminder before purchasing and claims they made a mistake with their report. However, Jimu News showed proof that the reminder was only added on August 30.
After releasing coverage on this matter, Jimu News said their company, reporters, and editors were being harassed by Cai Xukun's fans who were sending them vulgar private messages and leaving malicious comments. They were accused of being yxh accounts (marketing accounts) to gain exposure, being hired for money to write those reports, using their official and public account as if it were a personal account, and that they had no evidence to back up their claims. They asked for Cai Xukun and his studio to respond on this matter.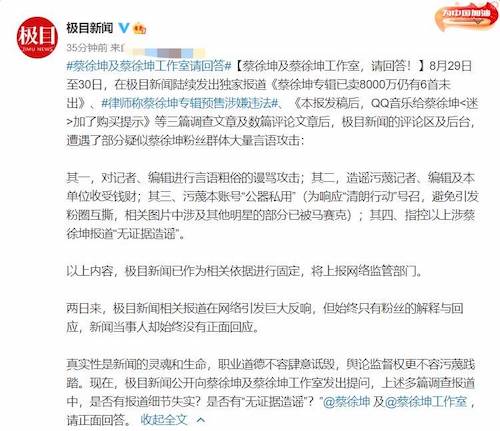 Jimu News issued another post addressing the irrational fan behavior and even said they have been reporting news since January 1, 1997, "meaning we've been reporting news before Cai Xukun was even born." Their Weibo account has over 20 million followers.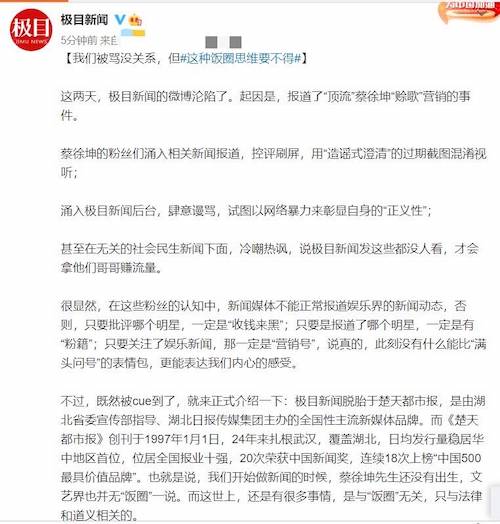 Due to the attention this report received and the sensitivity with fan behavior right now, Cai Xukun's studio issued a letter to his fans on August 31 to remind them of the "Qinglang" initiatives to rationally chase stars and not to engage in behaviors such as yelling and attacking the other party.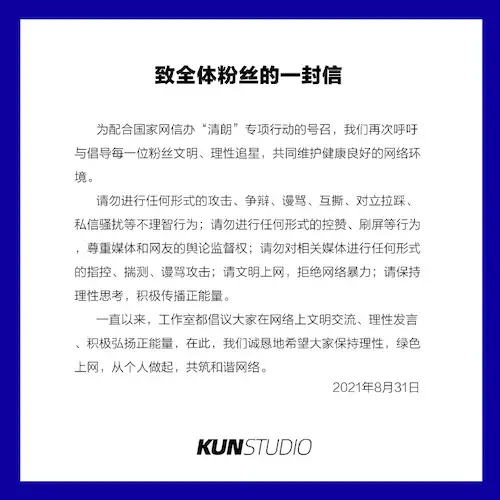 They also issued an apology letter on August 31 to consumers and thanked the media and netizens for their supervision. The studio also said they had immediately did a check after the reports about the controversies surrounding the album's release date for the other songs. They admitted that they failed to fulfill their obligation in using a significant format to remind and inform consumers of the launch date for the songs at the beginning of the album release.
The studio also said they will have stricter reinforcements to comply with guidelines to provide consumer alerts to protect their rights and interests and also reminded fans to rationally chase stars.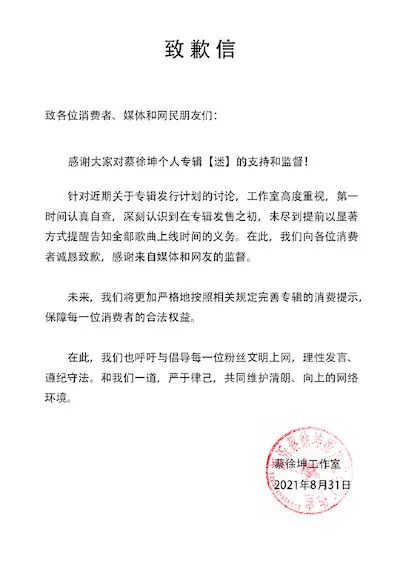 Hours later, Weibo's Administrator account revealed they had punished over 9,600 accounts by either banning them from posting, commenting, liking posts, and more from 1-3 months that were involved in attacking the media and other accounts and spamming the comments section with manipulative comments in regards to the Cai Xukun reports.