On September 1, dating rumors started circulating between Zhang Yuxi (张予曦) and Liu Xueyi (刘学义) after they were spotted together. A gossip blogger claims she received a tip on August 21 from a netizen that said Zhang Yuxi and Liu Xueyi were dating. On August 26, that netizen sent pictures of Liu Xueyi and Zhang Yuxi spotted in the same neighborhood at Hengdian to the gossip blogger.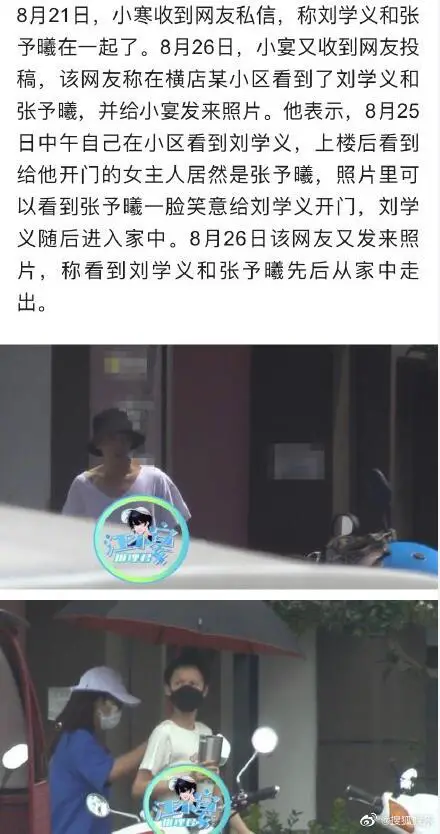 The netizen claims Liu Xueyi was spotted going to Zhang Yuxi's home after he was done with work. Zhang Yuxi was seen opening the door for Liu Xueyi. They were reportedly seen leaving Zhang Yuxi's house one after the other the next day. The cars they got on were also parked in the same area.
Not long after, both parties' studios issued statements denying the dating rumors. Zhang Yuxi's studio posted first, saying, "Both artists' relationship is indeed very good. They both live in the same neighborhood and often go to each other's place. The entrance and exit passageways for the neighborhood are those few ones. (The studio was also there that day)."
Liu Xueyi's studio posted a little after Zhang Yuxi's studio, saying, "Reject secretly filming and chasing after to film, hope everyone focuses more on the work and stay far away from actors' private lives."
Zhang Yuxi and Liu Xueyi previously collaborated on "Love and Redemption" (琉璃) and "Love at Night" (夜色暗涌时), which they play lovers and just finished filming in May.