NEXT member, Li Quanzhe (李权哲), was the subject of gossip fodder when a former fan under the alias, "XIAOTIANJJ", quit being his fan and aired his dirty laundry. On September 13, she showed a screenshot of a conversation talking about Li Quanzhe allegedly bragged to his NEXT members that he had unprotected sex with a Korean girl and that she let him ej*culate inside of her. The conversation also shows someone saying Li Quanzhe didn't want to wear a condom.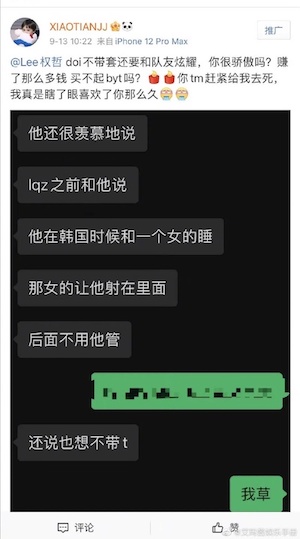 Another former fansite of Li Quanzhe's, "HAMSTER0122_Li Quanzhe", reposted the post from "XIAOTIANJJ", and said, "Since your debut, do you need a reminder of how many times you were filmed going out with a girl? Airdropping with fans on the plane. Your group member found out and wouldn't let you post it. You still went to tell them that your group member didn't let you post it. In 2019, fansite owners received consecutive messages from fans. Who knows whether they were your girlfriends or friends with benefits?"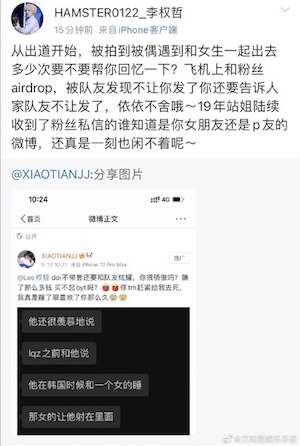 The second person followed up with another post claiming that Li Quanzhe secretly flew to Korea for a date prior to the new year in 2020. Li Quanzhe was reportedly spotted by fans and was advised by them not to continue his behavior, which resulted in them being scolded by him. In another post, she revealed four of Li Quanzhe's fansites shut down last year because of this incident so that he would remember. She also mentioned they had to bear being yelled at by his fans. She said they didn't have the heart to expose him then, but right now they are asking for Li Quanzhe's apology and have called him trash.
Li Quanzhe nor his management company, YUE HUA Entertainment, have addressed the rumors.