Fan Bingbing (范冰冰) and Li Chen (李晨) were engaged and one of the fan favorite celebrity couples before the former's tax evasion scandal put everything on hold. Li Chen stayed by Fan Bingbing's side throughout her investigation and even after everything happened. However, about 8 months after Fan Bingbing admitted to her tax troubles, the couple announced they had split amicably in June 2019.
Three days after their break up, Li Chen and Fan Bingbing were spotted dining together, leading netizens to think there was hope for them rekindling their relationship. However, they clarified it was only a work meeting and not getting back together.
Even though they have split for almost 2.5 years already, rumors started circulating that Li Chen and Fan Bingbing were once married and later divorced. A blogger claimed a lawyer recently shared with them that he once accepted a tax evasion case for a female celebrity. He also revealed that female celebrity was already married at the time, which led people to think it was Fan Bingbing.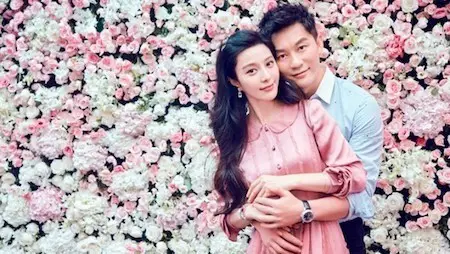 In this supposed lawyer's hints, he said this female celebrity "F" was involved in yin-yang contracts and tax evasion. The first point stated that the celebrity apologized to the whistleblower and that she spent 1 million RMB to pray to a "little deity" for help. The second point was that after listening to this "little deity's" advice to escape and hide, it ended up her being caught. The third point stated that a few friends of this celebrity raised tens of millions in funds to give to civil servants to help her, but they all ended up being "taken in".
The lawyer revealed the fourth point was that female celebrity "F's" husband at the time was filming overseas. After the case was settled, the husband would come home and quickly get a divorce. The fifth and final point stated the celebrity wanted to strike back at the whistleblower and the media, but was dissuaded by the lawyer.
Due to the some of the similarities, netizens started naming Fan Bingbing and Li Chen as the people in the rumors. Fan Bingbing's studio left a comment directly on that blogger's post asking them to delete it as the content was fabricated and not true. Afterwards, the blogger deleted the post and posted a blurred out post of the previous content and said, "Fabricated rumors".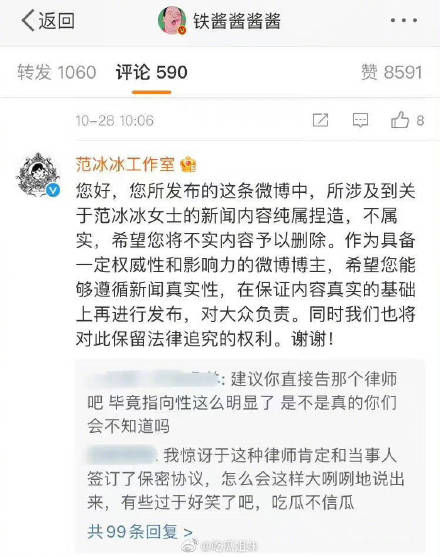 Li Chen's studio issued a statement, saying, "Purely fabricated rumors!", and said they will be taking legal action to protect Li Chen's rights. They also included the blogger's post with a sign, saying, "Fabricated rumors".