TVB actor, Mat Yeung (楊明), appeared in court on November 4 with his girlfriend, Lisa Ch'ng (莊思明), in tow for his car accident case. Last August, Mat Yeung was involved in a car accident, but refused to take a breathalyzer test on scene and later refused to provide blood samples for blood alcohol testing. As a result, he was arrested and charged with "refusal to provide blood samples", "careless driving", and "insufficient light transmission of the car window" (tinted windows).
On the three charges, the court found Mat Yeung was not guilty for "refusing to provide blood samples". Mat Yeung plead guilty to "careless driving" and "insufficient light transmission of the car window".
For the careless driving charge, the judge determined that Mat Yeung was definitely driving under the influence, which caused him to be unconscious and lose control over his vehicle. They said Mat Yeung allowed himself to get extremely inebriated and still chose to drive. The punishment for Mat Yeung's crimes starts at 30 days of jail time. The judge found that probation and community service were not applicable in this case, but considered the defense lawyer's pleas for leniency in their sentencing.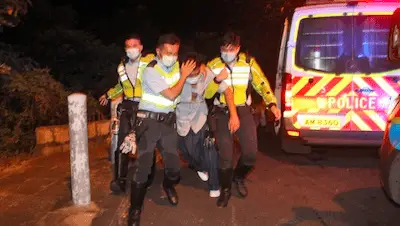 According to the defense lawyer, he stated Mat Yeung was the sole breadwinner of his family, providing his parents with 40,000 HKD to support them. He hasn't had any income since last December and wasn't able to take on any film roles, making him lose out in 1 million HKD in earnings. As a result, he was sentenced to 20 days imprisonment. Due to the twists and turns of this case that lasted for 7 months, the sentence was reduced 2 days, making Mat Yeung's prison sentence to 18 days, suspended licenses for 2 years, and attend driving improvement courses at his own expense.
As for the charge on "insufficient light transmission of the car window", Matt Yeung was fined 3,000 RMB. It's reported Mat Yeung shook his head when hearing the sentence, while Lisa Ch'ng broke down crying. Mat Yeung was released on bail for 30,000 HKD and is applying to appeal the sentence. Mat Yeung must live in his registered address and can't leave the city. He must report to the police station every Monday, Wednesday, and Friday.
Credit: hk.on.cc, Mat Yeung IG