Tencent's 3rd Tencent Music Entertainment Awards (TMEA) is being held on December 11. On December 2, Tencent announced the second batch of attendees: Cai Xukun, INTO1, Taylor Swift, Silence Wang Sulong, G.E.M., Li Wenhan, Mao Buyi, Wu Qingfeng, and more.
Previously announced artists also attending include: Jay Chou, TNT, Mayday, Renee Liu, Joker Xue Zhiqian, Yisa Yu Kewei, Jike Junyi, Liu Xijun, Shan Yichun, and Hua Chenyu.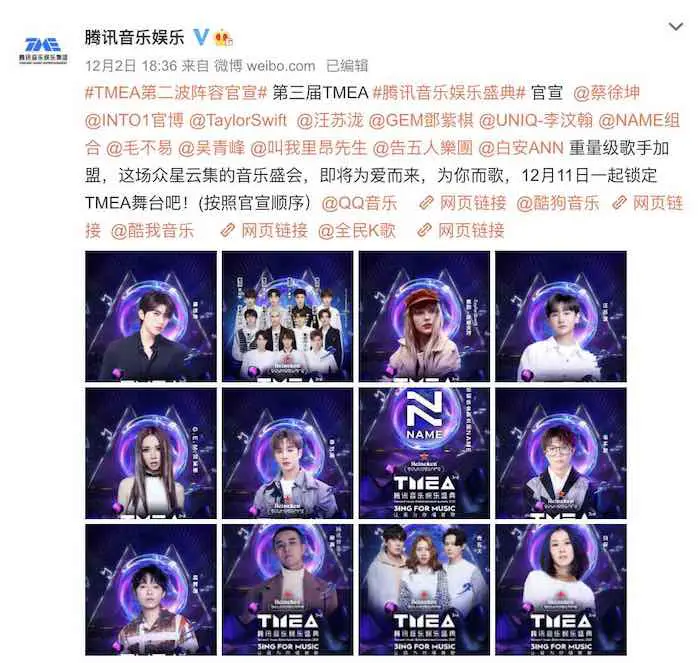 Aside from the surprise of Taylor Swift's announcement, K-Pop group, EXO, was also announced as attendees for the award show. While the poster shows 6 EXO's members, KAI and Sehun will be representing the group. Both Taylor Swift and EXO will be attending the function through VCR messages, which means it's pre-recorded.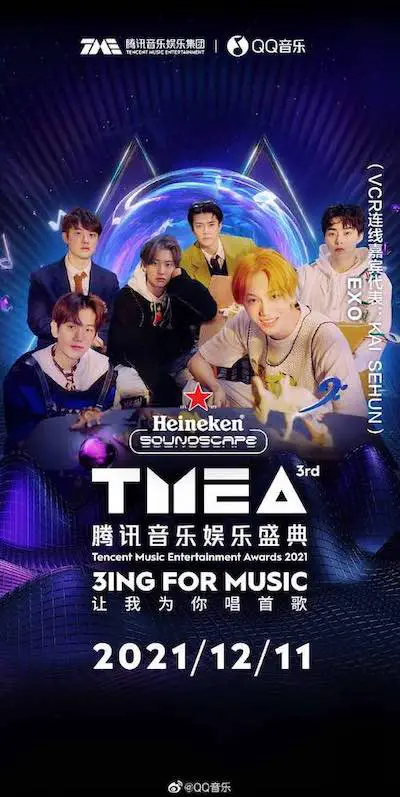 Even so, having EXO "attend" a commercial function in China has led to some netizens wonder if the ban on Hallyu and South Korean imports has been lifted or relaxed. Since November 2016, Korean entertainers have been restricted from promoting in China due to the tensions between China and South Korea over the latter's deployment of the THAAD missile defense system.
Further signs of the ban being relaxed came in the first release of a Korean film in Chinese theaters since 2015. The Korean movie, "Oh! Moon-Hee", starring Na Moon-hee, was released in Chinese theaters on December 3 and was also seen being promoted on Weibo.