On December 2, actress, Ariel Liang Baoling (梁宝羚), denied dating rumors with Chen Zheyuan (陈哲远) after a netizen left a comment on her Douyin video. They said, "You went to see Chen Zheyuan, right?". Ariel Liang responded, "I was filming in Shenzhen. Been good friends with Chen-ge for many years. Stop causing trouble."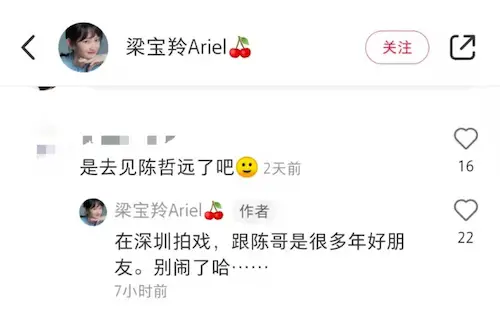 Ariel Liang and Chen Zheyuan were previously rumored to be dating when netizens suspected they had gone out on a fishing trip together. A netizen also compared similar posts between them.
Back in August 30, 2018, Ariel Liang had mentioned she wanted to go see deers in Nara, Japan. On September 11, 2018, Chen Zheyuan posted he went to see deers in Nara, which was also Ariel Liang's birthday.

Netizens said Ariel Liang's posts from April 13 was similar to the background shown in Chen Zheyuan's fishing trip that was posted on April 11. Ariel Liang also posted the fish she caught in an April 11 Instagram post, which looked similar to the one shown in Chen Zheyuan's vlog.

Ariel Liang also showed a picture of the fish she caught in a bucket on April 11. Netizens said a similar looking bucket and fishing boat can be found from Chen Zheyuan's fishing trip on April 11.

In a March 16, 2020 post, Ariel Liang shared some pictures of films/dramas she enjoyed. Someone claims they found Chen Zheyuan's Douban account and showed that he reviewed two of the movies from Ariel Liang's post. The reviews are also done around the same time of her post.