iQIYI's costume series, "Luoyang" (风起洛阳), aired on December 1 to much anticipation due to the storyline and attention to detail in the elaborate costume and set design. However, just two days in, there were claims of plagiarism with the props used in the series.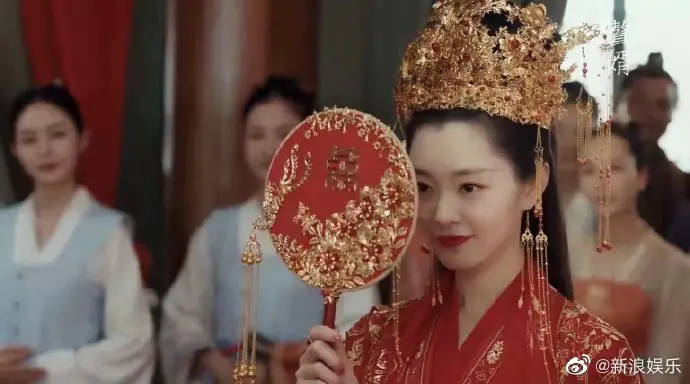 In episode three, Wang Yibo's character, "Baili Hongyi" and Song Yi's "Liu Ran", have an elaborate wedding ceremony. "Liu Ran" is seen holding a red embroidered circular wedding fan, which prompted plagiarism accusations. A netizen by the name of "Jiaran" who is an embroidery artist that shares her works on her page, accused the series of copying her work: "My works have already been plagiarized to a point where it's numb. In the past, imitation products flooded shopping websites. I didn't expect it would now be attacking tv series. Can it be stopped?"
In response to the plagiarism accusations, the "Luoyang" producers, Liu Bai Entertainment revealed after verifying with a staff member, they immediately got into contact with Jiaran. They apologized to Jiaran and the viewers of the drama. They explained it was negligence on the film crew's part. When the production team were working on the props for the fan, they were doing research on the internet and found her design that was widely spread online. They weren't aware that design spreading online was the original work of Jiaran.
The production team also apologized to Jiaran directly and praised her hard work and efforts to continue carrying on the traditional culture. After communicating with Jiaran, they said they will be purchasing two of her works to gift viewers.
Jiaran reposted their apologies and responded, "After active communication, I felt the production team's sincere attitude. Let some of the unhappy incidents head towards a better direction to develop."
In response to some netizens' questions about the prices of the fans, Jiaran revealed that she has a few pieces of works that are collector items and can cost 20,000 – 30,000 RMB for each item. Jiaran explained there are very few pieces of collectors' items as they are unique and all crafted by her. She said she has never sold the wedding fans as an end product.