Wang Leehom (王力宏) announced him and his wife of 8 years, Lee Jinglei (李靚蕾), filed for divorce on December 15. Shortly after, a slew of rumors were circulating over the cause of their separation. On December 16, rumors started going viral that Wang Leehom cheated on his then-girlfriend, Lee Jinglei, and BY2 member, Yumi(孙雨), back in 2013.
A netizen made a Facebook post on a group for exposing secrets/gossip that accused Wang Leehom of cheating on a BY2 member. This person claimed to be a good friend of BY2's Yumi and said "Wang Leehom cheated on a twin sisters group member. When he was dating his wife, he was already cheating on her. He said he didn't want to have a relationship. Every time they meet, it's to hook up. She thought he didn't want to have a relationship because he was hurt before. It wasn't until him and his wife suddenly announced their marriage that she realized she became a mistress. But, she couldn't let it go. Even after they got married, she continued staying in contact with him. In order to please him, she even sent him sexy nude pictures of herself. I think the man is really scum, but he protects his image very well, so nobody knows. Every girl that hooks up with him all think he is serious that's why they only agreed to have sex with him. Who would've thought such an outstanding idol would cheat his way to bed. His wife is also quite pitiful. She gave birth to three children in 5 years for him."
This netizen even included this picture of Yumi and Wang Leehom.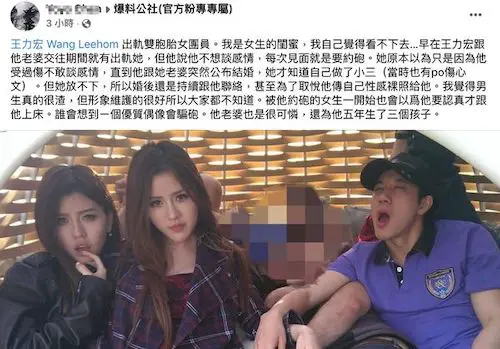 Wang Leehom's manager responded to Taiwanese media outlet, ETtoday, saying, "The personal matters have already been explained clearly. Regarding the malicious slander and the false accusations and reports, we will immediately take legal action."
BY2's studio issued a statement saying, "Recently, there have been certain accounts spreading false information about BY2 on social platforms. The content included 'impersonating Yumi's friend to spread malicious slander against BY2 and more used group pictures Wang Leehom took with friends at his public celebratory banquet for his 2013 concert and only cropped the picture to just show Yumi and Wang Leehom to create and spread rumors. Once such false information was released, it led to the unknowing public to recklessly share it, causing the public and the media to misunderstand and has already seriously harmed BY2's reputation." BY2 has asked users and the media to stop spreading false information and will be taking legal action against the rumor starters.