Vincent Wong (王浩信) and Yoyo Chen's (陳自瑤) marriage has been the subject of gossip fodder in recent years. Because of their lack of interaction and Vincent Wong being involved in constant rumors with his co-stars, there have been numerous rumors that their marriage was on the verge of divorce. The public got a glimpse of what their relationship was like when Vincent Wong thanked his wife at the 2020 TVB Anniversary Awards and the camera showed Yoyo Chen with a less than pleased expression.
On December 15, Vincent Wong was promoting his new movie, "Sniper Army" (兵王之絕境狙殺), on Weibo. Yoyo Chen left a comment on his post, saying, "Support". Vincent Wong responded back, "Thank you." Netizens left comments cheering them on, saying, "Finally interacted. Don't cooperate with TVB's publicity stunt. Fans prefer to see you guys show off PDA." Yoyo Chen also left the same comment on Vincent Wong's promotion post on Instagram.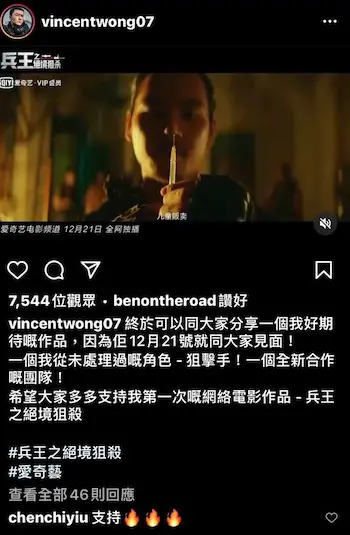 There was quite the uproar at the 2021 TVB Anniversary Gala last month when Vincent Wong was walking down the red carpet with frequent co-star and once rumored partner, Sisley Choi (蔡思貝), while Yoyo Chen walked with Hugo Wong (黃子恆) and Patrick Sir (林溥來). Fans were already upset with this arrangement. However, Vincent Wong and Sisley Choi were last year's Best Actor and Best Actress award recipients, respectively.
Following the event, there were reports saying Yoyo Chen and Sisley Choi were on bad terms. There were rumors Yoyo Chen had already told her friends that she wanted to avoid being at the same event with Sisley Choi and didn't want to act in the same series with her.