The 2020 TVB Anniversary Awards show (萬千星輝頒獎典禮 2020) was live streamed on January 10, 2021. Vincent Wong (王浩信) was already rumored to be the hot favorite to take this year's Best Actor award. As expected, Vincent Wong took home the award for his portrayal as the blind lawyer "Hope Man" in "Legal Mavericks 2020" (踩過界II). While he won for "Legal Mavericks 2020", Vincent Wong thanked the cast and crew of his other series, "Al Cappuccino" (反黑路人甲), which also won a lot of accolades this year.
2020 TVB Anniversary Awards Show – Winner List
Nancy Wu Led Lau Dan To Think He Won an Award When He Didn't at 2020 TVB Anniversary Awards
Even though this was his second time accepting the award, Vincent Wong was quite emotional in his speech. The highlight was when he thanked his wife, Yoyo Chen (陳自瑤), for taking care of their daughter so well. Vincent Wong and Yoyo Chen's relationship has been magnified by the media in recent years. Divorce and marital discord rumors have been looming over the couple as they seemed to be apart more often than they are together.
Kenneth Ma Thinks Roxanne Tong is Still Very Fit Despite Her "Happy Weight Gain"
TVB Rumored to Have Delayed Ruco Chan's Works to Pave Way for Vincent Wong to Win Best Actor Award
Aside from the speech, netizens noticed Yoyo Chen's expression when Vincent Wong thanked her. He said, "I have to thank my family, Yoyo, for taking such great care of our daughter." Some people thought Yoyo Chen was giving a "stank face".
Kaman Kong Considered Ending Her Life When She was Accused of Pursuing Vincent Wong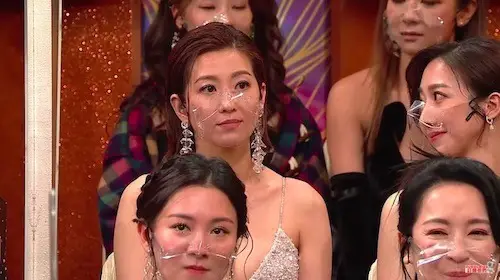 Former TVB Host, Plato Lai, Says Ex-Girlfriend, Yoyo Chen, Always Had a Stank Face
However, what wasn't shown on television was Yoyo Chen going to Vincent Wong and giving him a hug after the awards show. Some netizens even said, "The best actress is actually Yoyo Chen." for her different expressions on and off stage.
A History of Vincent Wong's Dating Rumors
Yoyo Chen spoke with Oriental Daily News about her husband getting "Best Actor" again. When asked about her expression when Vincent Wong gave her a shoutout, Yoyo Chen said she was probably distracted suddenly hearing him give his speech. When reporters asked if it was rare for Vincent Wong to publicly say these things, Yoyo Chen said, "When he got the award last time, he also publicly thanked me. Maybe because I wasn't feeling too well. I had a bit of a headache. I really do take great care of our daughter. I don't know how we will celebrate yet."