Vincent Wong (王浩信) has always had his fair share of dating rumors. Those rumors even continued when he got married to Yoyo Chen (陳自瑤) and led to rumors of divorce and marital discord. Yoyo Chen's expressions on and off stage at Vincent Wong thanking her in his speech became the talking point over the winners. Vincent Wong defended Yoyo Chen's "stank face" and attributed it to her being cold. Yoyo Chen explained she wasn't feeling so well, which might've been the reason why she was a bit dazed. This still left netizens questioning the status of their marriage.
So who were these rumored girlfriends?
Vincent Wong Thanks Wife, Yoyo Chen, in Acceptance Speech at 2020 TVB Anniversary Awards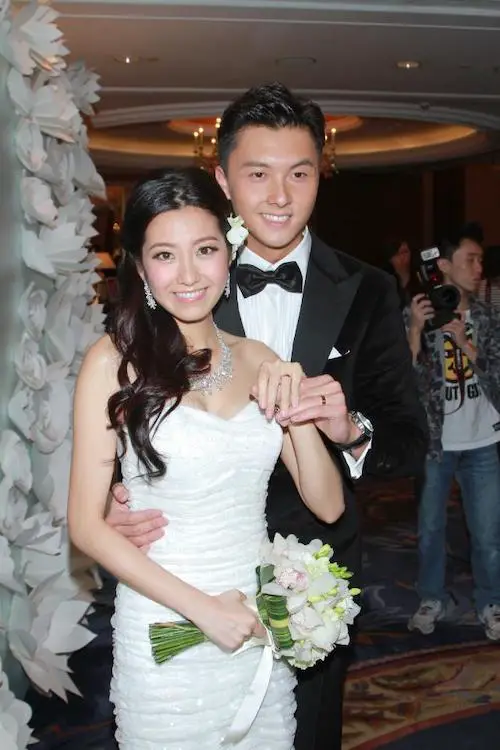 Former TVB Host, Plato Lai, Says Ex-Girlfriend, Yoyo Chen, Always Had a Stank Face
Fala Chen
There were rumors Vincent Wong and Fala Chen dated each other when they were studying in the US prior to joining the industry. When Vincent Wong returned to Hong Kong to develop his career, their relationship was said to have ended. However, both of them denied this relationship ever existed. When they both joined TVB, they were arranged to host TVB8 shows. Fala Chen didn't avoid Vincent Wong and even attended his wedding.
Kaman Kong Considered Ending Her Life When She was Accused of Pursuing Vincent Wong
TVB Rumored to Have Delayed Ruco Chan's Works to Pave Way for Vincent Wong to Win Best Actor Award
Cammi Tse
Prior to getting married to Yoyo Chen in 2011, Vincent Wong was rumored with Edison Chen's ex-girlfriend, Cammi Tse. Vincent Wong was reportedly seen driving Cammi Tse back to her home and spent over 5 hours there. However, Vincent Wong explained he met her at a party with a lot of people.
Lisa Ch'ng
Vincent Wong was also rumored to be dating Lisa Ch'ng prior to getting married to Yoyo Chen. The rumors started when Lisa Ch'ng and Vincent Wong traveled to Singapore for work. They said Vincent Wong was trying hard to pursue Lisa Ch'ng. On the day of the wedding, Vincent Wong was asked if he invited Lisa Ch'ng to the wedding. He responded, "Why would I invite her? I didn't invite a lot of friends! We are so in love, nothing will effect us." Lisa Ch'ng later said, "I've never indirectly admitted it. We only went on a few trips. He wasn't pursuing me. Just good friends. I am not close with Yoyo Chen so I don't want to be dragged into it."
Jacqueline Wong
Jacqueline Wong and Vincent Wong were rumored to have gotten close while filming the 2015 series, "With or Without You". There were rumors Vincent Wong and Jacqueline Wong were getting close while filming on location and didn't avoid to show their flirtation. It was said this led to Yoyo Chen and Vincent Wong sleeping in separate rooms. However, she ended up supporting Vincent Wong.
Sisley Choi
Rumors started between Sisley Choi and Vincent Wong while filming "Legal Mavericks". It was rumored the two of them were having hotpot alone in a VIP room. It was later rumored Vincent Wong was seen visiting Sisley Choi 's home in North Point late at night. Vincent Wong clarified it was a whole bunch of people that had hotpot together and emphasized he didn't do anything wrong to his wife. Yoyo Chen supported her husband and said he didn't cheat.
Vicky Chan
After Sisley Choi, Vincent Wong was rumored with Vicky Chan while filming "Heart and Greed" together. Vincent Wong was rumored to have rented a home for him and Vicky Chan to meet up. Vincent Wong later denied the rumors saying they were baseless and created out of nothing and felt very wronged. Vicky Chan also clarified that they were only colleagues who had only greeted each other once in the hallway.
Kaman Kong
In 2018, rumors between Kaman Kong and Vincent Wong were circulating when they traveled to England to film for "Fist Fight". Kaman Kong was rumored to have strongly pursued Vincent Wong. A crew member claimed Kaman Kong would often buy coffee for Vincent Wong while they were in England. Vincent Wong clarified the rumors saying they were completely false and that he and Kaman Kong are just colleagues. "I'll treat it as promotion for the series. I hope it doesn't effect my family." Kaman Kong also denied the rumors and emphasized she no longer had contact with Vincent Wong after filming ended.