Barbie Hsu (徐熙媛) and Wang Xiaofei (汪小菲) issued a joint statement announcing their divorce after 10 years of marriage on November 22. In the statement, they stated it was an amicable separation and will continue to get along with each other and raise their two children as parents and friends.
However, on December 18, rumors started going viral that Wang Xiaofei cheated on Barbie Hsu with 25 year old influencer and actress, Zhang Yingying (张颖颖), and were living together. Comparison pictures were circulating showing Wang Xiaofei and Zhang Yingying wearing the same necklace, spotted together at the same bar in June with friends, and a similar location background during their lives.
Wang Xiaofei denied the rumors, saying, "Maliciously starting rumors, deliberate slander, wait for the lawyer's letter. Really sorry for bringing trouble to my friends!" Shortly after, Wang Xiaofei issued a lawyer's note stating Wang Xiaofei has never carried out any action mentioned in the false news and asked for people to stop spreading false information and all defamatory behavior.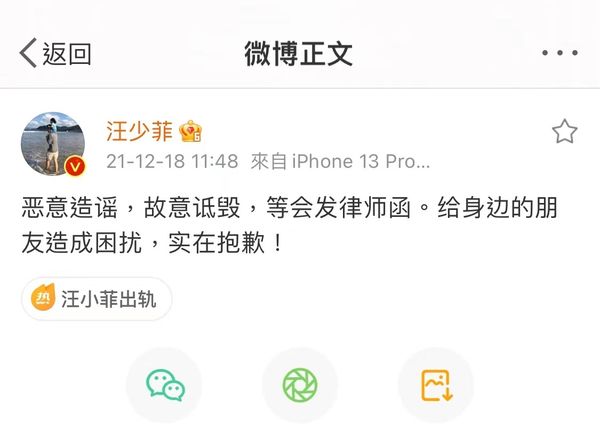 In response to the Taiwanese media's inquiries about Wang Xiaofei's rumors, Barbie Hsu responded, "Everything has passed. I cherish the moment. Heartfelt thanks to everyone who cares about me!"