The Wang Leehom (王力宏)and Lee Jinglei (李靚蕾) divorce saga seems to have come to an end with the former issuing a public apology and taking responsibility for his misdeeds. Wang Leehom also announced he would be taking a hiatus from work. While it seemed like everyone was siding with Lee Jinglei based on her logical reasoning and evidence made available, Wang Leehom had one person on his side that wasn't his fan.
After Wang Leehom's apology and hiatus announcement was trending, it was discovered "Empresses of the Palace" actress and producer, Meme Tian (田朴珺), reportedly made a post defending Wang Leehom in Moments on WeChat.
She wrote, "The ex-wife incident these past two days, I am very curious why such a highly educated woman has to stay at home to be a full time housewife? Aren't all artists fickle in love? Otherwise, where do you think the inspiration comes from? Men aren't saints. There is a saying in Cantonese: Those who eat salted fish must put up with the thirst. Not to mention the ex-husband, even if it's the ex-boyfriend, you can't strike like that. Those onlookers who capped their hands, let me ask one question: after you join in the fun, do you dare become friends with someone like this? A woman that truly has a strong heart doesn't need to use revenge to show their strength. Be kinder, god will see."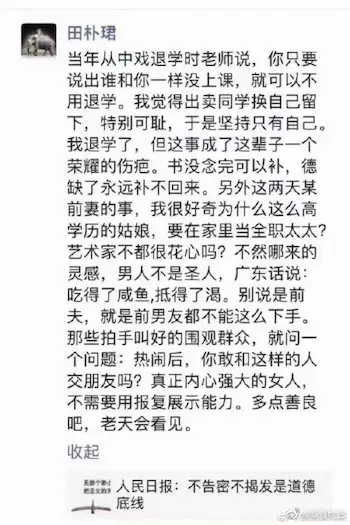 Meme Tian's post understandably riled up a lot of netizens. Netizens left comments saying, "Mistresses will help mistresses speak up., "She is standing from the viewpoint of a mistress, after all, how did she get to where she is, everyone knows.", "She has the audacity to talk about others.", "Without men being fickle, there wouldn't be a market for her.", "Really sick, is it because you were once a mistress so now you're empathetic? Really the same type of person as Wang."
Meme Tian is married to Chinese businessman, Wang Shi. Before they got married, Meme Tian was rumored to be the third party in Wang Shi's previous marriage, which led to his divorce and how she "got to where she is".