It's the end of the year and the C-ent industry is trying to reach their KPI targets. After a few months of the "Qinglang – clean the internet" initiative, the C-ent industry has been bombarded with news the last few days, ranging from public divorce battles, an e-commerce influencer's tax evasion scandal, divorce rumors, giving birth rumors, and now JJ Lin being tagged in a series of post from a netizen who is pleading for him to respond to her.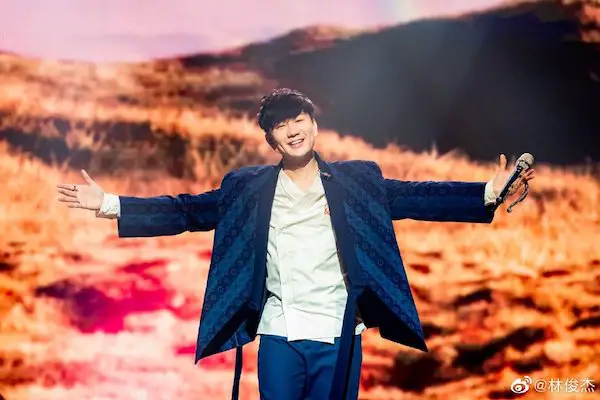 On December 22, a netizen wrote a series of cryptic posts tagging Singaporean singer, JJ Lin (林俊杰). The first post talked about being grateful for having JJ Lin through her toughest times and supporting her. In her second post that she pinned, she wrote:
"jj,
May I ask if you have personally received the nearly 100 messages that a few of your friends and relatives helped me pass to you each day this month? I've been here for almost a month. This is only method I can presumptuously inquire about you. If you have received it, please personally contact me! Thank you. Friends woke me up in the morning, in the world of adults, staying quiet, cold treatment, is the worst method. Is it deep-seated hatred? I think it's not even considered hatred…is it intentional? We've discussed this issue very early on. The answer is in our hearts. The mistakes that happened along the way also scared me. If it's possible to predict, I definitely wouldn't fly there. However, there is definitely a mistake in my duty. I trusted the wrong person, brought suffering to everyone. I am willing to take all responsibility for all the pain and darkness up til now. I also took the risk with the pandemic and insisted to come here. 30 days of conveying and waiting foolishly, we all know time is very precious, must cherish the moment. However, I am tiredly starting to have doubts about why I came here to find someone. The most peaceful method is for two adults to communicate on their own. We shouldn't make those around us suffer anymore."
In her fourth post, she reposted JJ Lin's new song and said, "Today is my 28th day in Singapore waiting to apologize to a very kind and very handsome friend that I really cherish."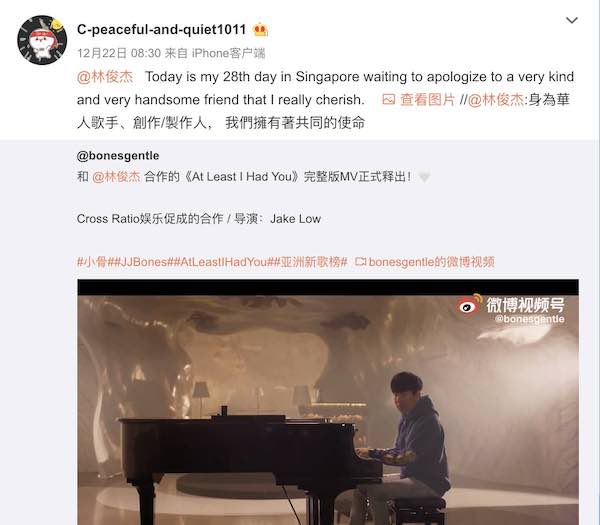 However, JJ Lin's studio, JFJ Productions, issued a statement telling the account holder and the media to stop false insinuations in which concrete evidence cannot be provided for. They won't be responding on the defamatory rumors and infringement behavior. They also said if people have evidence of JJ Lin being involved in illegal activity to report it to the relevant departments and they will cooperate with the investigation.