On March 10, it was Cecilia Liu Shishi's (刘诗诗) 35th birthday. Good friend, Yang Mi (杨幂), posted on Weibo wishing Liu Shishi a happy birthday. Yang Mi posted a picture of the backs of her and Liu Shishi and wrote, "Wishing you a happy birthday, forever blessed, happy, and good looking." Liu Shishi responded back, "Two 250 (silly people), so cute, hahaha~".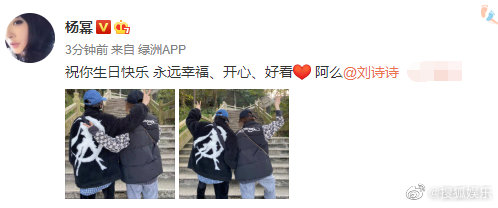 This is the first time Yang Mi had wished Liu Shishi a happy birthday since 2011. Yang Mi and Liu Shishi were good friends after starring in the 2009 series, "Chinese Paladin 3". However, their relationship seemed to have grown distant over the years until November 2020 when they were both at an event. Then last year, the three ladies of "Chinese Paladin 3", Yang Mi, Tiffany Tang Yan, and Cecilia Liu Shishi, reunited for a marie claire event.
Many fans of the duo rejoiced at the interaction and even led to "ShiMi", a combination of their names, to trend on Weibo.