It was Luhan's (鹿晗) 32nd birthday on April 20. Amid constant break up rumors, his actress girlfriend, Guan Xiaotong (关晓彤), wished him a happy birthday right at midnight, continuing the tradition for the fifth year in a row. This has been a tradition with the couple ever since they went public with their relationship in 2017.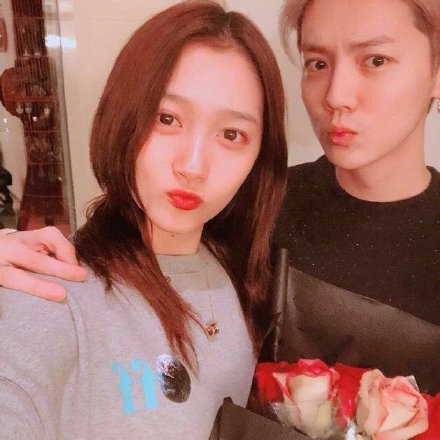 Guan Xiaotong wrote a simple, "Happy Birthday" and tagged Luhan. Over a little hour later, Luhan commented on Guan Xiaotong's birthday post with, "ka ka di" (咔咔滴). This seems to be a codeword for the couple as Guan Xiaotong said something similar, "ka ka de" (咔咔的)", when they went public with their relationship.

Since they've been dating, Guan Xiaotong had posted birthday greetings for Luhan at timestamps with special meaning.
First birthday: 00:00, right at midnight
Second birthday: 00:17, they went public in 2017
Third birthday: 00:30, Luhan turned 30
Fourth birthday: 23:31, Guan Xiaotong was 23 and Luhan turned 31 that year.
Fifth birthday: 00:00, back at midnight