On China's "520 Day", Jacky Heung (向佐), announced his Taiwanese actress wife, Bea Hayden (郭碧婷), is pregnant with their second child. He wrote, "Extremely happy that Bea and I are expecting our second child. Currently in the process of handling the procedures to go to Taiwan, China, waiting anxiously and excitedly. Hope to see my wife as soon as possible and hope everyone had a happy 520."
Bea Hayden is nursing her pregnancy in Taiwan while Jacky Heung is working in China.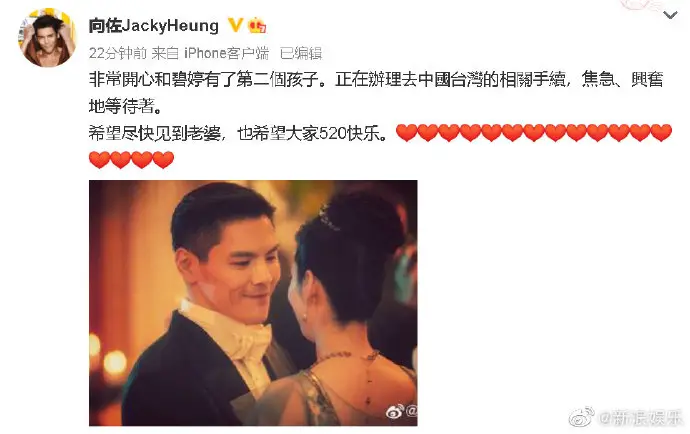 A day prior to his announcement, Jacky Heung's mother, Tiffany Chen, revealed to the Hong Kong media that her son and Bea Hayden were expecting baby no. 2. She also spoiled that Bea Hayden was carrying a boy and is expected to give birth next month.
Jacky Heung and Bea Hayden welcomed a baby girl, Cora, back in October 2020.